Southern Arizona
Custom Personalized Horse Corrals For Sale!
Call (520) 730-7020
AZ Cattle Brands, Ranch Logos, Portable Panels! In Ground Permanent Pipe Corrals!
Custom Made Western Ranchstyle Cattle Brands, Initials, Design Your Own Ranch Brand, logos etc built into each panel or gate. Each livestock brand is by necessity different than all the others and often conveys the character of the owner. OK Corrals offers a comprehensive line of pipe corraling, riding arenas, and portable panels for sale customized with your Arizona ranch brands, name, club name, or design from the most complex to simple AZ cattle ranch brands. These are Great for horse shows, 4-H groups, livestock shows, state and county fairs. Easy to identify personalized portable corral panels can be used to promote your club, farm, brand, phone number etc and discourages theft because your design is built right into the panels. Branding is very important in proving ownership of lost or stolen corrals. Because most horse corraling sold in Arizona is similar in design, it makes them almost impossible to legally identify without your ranch brand or logo. The most popular location for brands on horse corrals is in the center of each panel between the top and 2nd bar but we can customized any shape or design to your specifications. Any custom built design or brand that you choose will be made to your specifications, your exclusive property, and WILL NOT BE DUPLICATED OR RE-SOLD TO ANYONE ELSE.
Reading Western Ranch Brands
For many new livestock owners, the art of reading a brand is a mystery. Brands, to the inexperienced, resemble hieroglyphics. However to the experienced livestock person, they become a readable language. With practice and an understanding of some important brand terms, the average person can easily acquire basic skills in reading brands. The ability to read these symbols like any other language, follows certain rules. This is referred to as "callin" the brand." Brands are composed of capital letters of the alphabet, numerals, pictures, and characters such as slash / , circle O, half-circle

, cross +, _bar, etc, with many combinations and adaptations. Letters can be used singly, joined, or in combinations. They can be upright,

XIT, lying down or "lazy," (lazy S)

, connected ( V B connected)

or combined,

(V B combined), reversed,

(reverse B), or hanging

(V hanging S). Figures or numbers are used in the same way as the letters. Picture brands are usually used alone, for example (ladder)

or (rising sun)

. There are three accepted rules for reading brands. Read from the left to the right and from top to the bottom as

(bar m). When the brand is enclosed, it is read from the outside to the inside as

(circle S). The reading of a brand, especially the more complicated ones, in one locality or state may not correspond to the way it is read outside Arizona.
The Stock Templates Below Are Specially Priced On
Or We Can Fabricate ANY Ranch Logo, Custom Design, and Cattle Brands Just For You!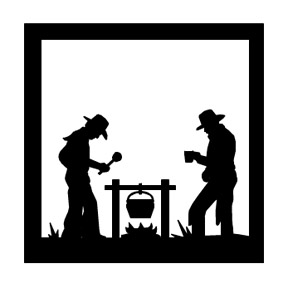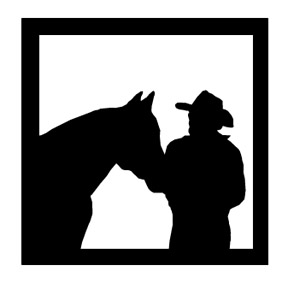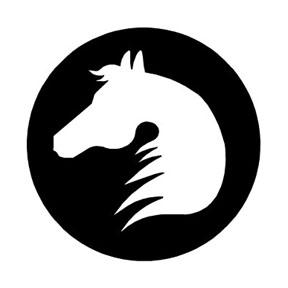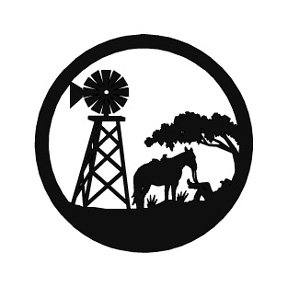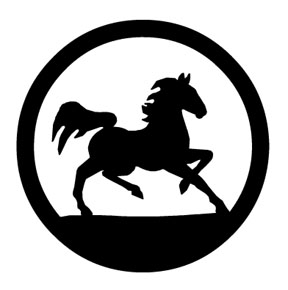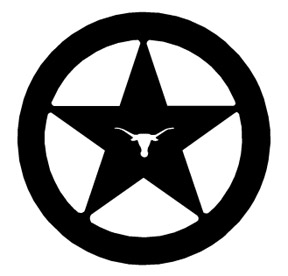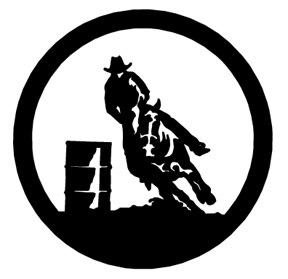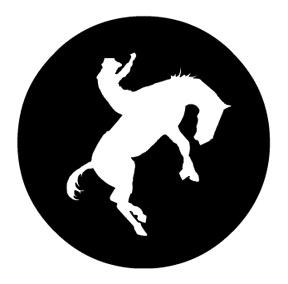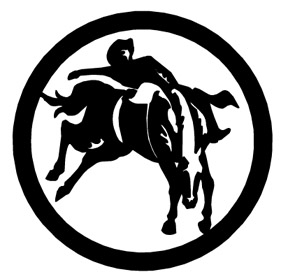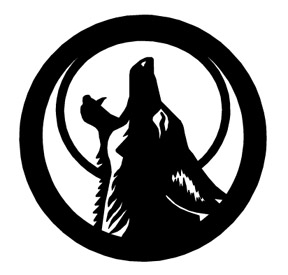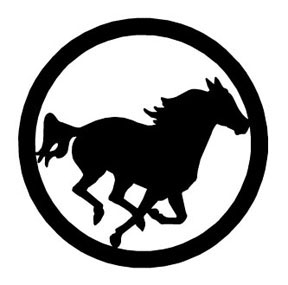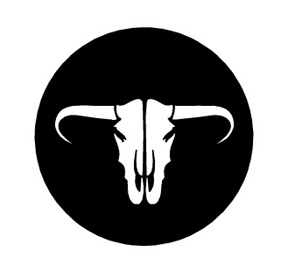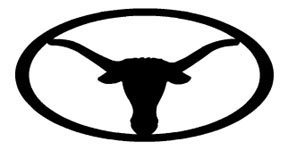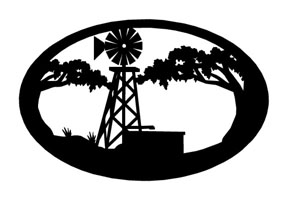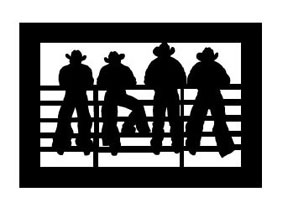 Let Us Personalize Any Style Or Logo Just For You!

Custom built horse corrals with your ranch brands for sale in Phoenix AZ. Let us personalize the perfect logo, initials, ranch brand, etc just for for you. Ok Corrals offers a comprehensive line of horse fencing from the most complex to a simple farm design made of quality US steel at the lowest prices. Choose from galvanized steel or your choice of colors in all sizes and the best prices on personalized logo horse corrals for sale. Custom built in Phoenix Arizona by US citizens with quality USA steel. You have the ability to design custom portable panels or we can offer you a multitude of artistic metal embellishments with which to personalize in ground permanent pipe corrals for your Arizona farm or ranch. We offer a wide array of designs and colors that can accomodate the most discriminating tastes to less expensive and easily affordable corrals. We deliver to the entire Phoenix Metro area and other parts of Southern Arizona. We build custom designs can include arched, straight, picketed or custom designed tops. OK Corrals can use your brand or logo to embellish anything made of steel. We install pipe corrals and/or design and build portable travel panels for horses to your specifications. Arizona has many companies that sell corrals for livestock but our products are second to none. We can fabricate unique and distinctive Equestrian facilities for the most discriminating taste. Our customized horse corrals are made in Phoenix Arizona can be delivered right to your door or are available to pick up. We have livestock corraling that can accommodate any needs that will meet any taste or budget. This website is designed to offer you the lowest prices on quality pipe corrals for sale with reliable on schedule delivery.
Please Note: We have delivered and installed custom horse corrals to the entire ranching and livestock market in Southern Arizona for years. You can not find better quality or better prices regarding custom panel fencing for livestock with your cattle ranch brands, initials, logo, for sale in Maricopa County or anywhere in AZ. We can fabricate designs that will meet any taste or budget from horse corrals for sale to barns, stalls, gates, and portable travel panels. We offer the lowest cost and best quality seven days a week. We can custom build products for livestock including square footage, height, materials, installation, color, size, rolled arched tops, custom panel fencing, and custom metal art inserted into any corral design. We can even email you pictures of horse corrals with your cattle brand or logo at Send Me Photos. Please feel FREE to bookmark our webpage to see all of the new products, sales, and specials on livestock pens in Southern Arizona for sale.
How To Identify Cattle Ranch Brands
All types of panels, gates and corrals with distinctly different characteristics and designs. If you decide to let OK Corrals build your design, Arizona horse or cattle ranch brands, logo, initials, etc, it will NOT BE DUPLICATED OR RE-SOLD to anyone else. This is the "Go TO" website for the Best Quality and Lowest Prices with Reliable Products regarding the Arizona equestrian market. We have pipe corrals and steel horse panels for every taste and budget.
Click Here To Contact Us
2011 Copyright © OK Corrals
AN Arizona Family Owned Company Since 1996.