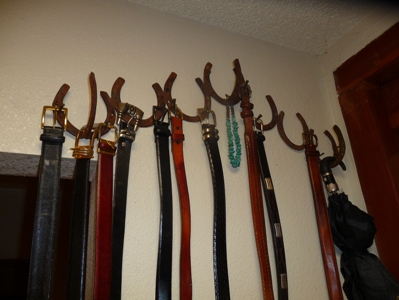 Western Belt Hangers For Sale
Made In The U.S.A.!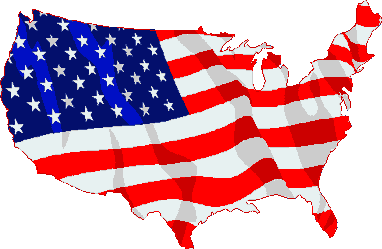 Top Quality Welded Steel Made From Nicely Detailed Authentic Arizona Horse Shoes
Great For Organizing & Finding Belts, Purses, Jewelry, & Accessories At A Glance!
Don't dig through drawers, shelves, and boxes to find the right belt, purse, or accessory! Our Heavy Duty Welded Steel Western Belt Hangers is an ideal way to organize your closet or dressing room so you can find exactly what you are looking for at a glance. These American Made belt hangers save time so you can get dressed and out the door Fast!. Easy to hang in closets, hallways, dressing rooms, or hang one by the front door for keys, umbrellas and impress guests. If you are looking for the quickest, easiest way to find the right belt with some Western Style, we have just what you are looking for!
Check Out Our Western Boot Puller Removers Below!
Western Boot Remover Pullers — Click Here!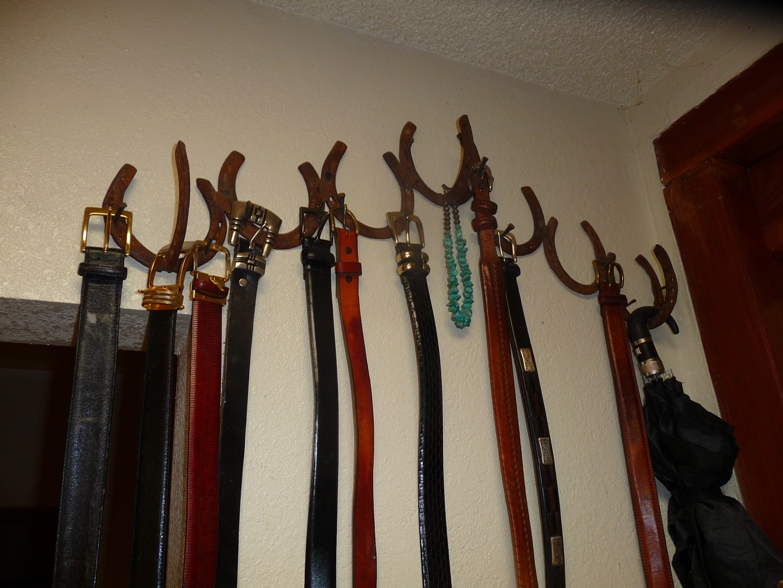 Western Belt Hangers Only $49.95
This Solid Steel Western Belt Hanger is ideal to aid you with quickly finding the right belt, purse or fashion accessory at a glance. If you would like to order this item or if you have any questions either place your order online or call us at (520) 730-7020 and we'll be happy to help you. Thank you for spending time with us today. Over the past years we have fabricated and shipped hundreds of Western Belt Hangers for both men and women. Arizona owned and operated, our products are made in Arizona by United States Citizens. No matter how many belts you have, we can custom make a Western Belt Hanger just for you.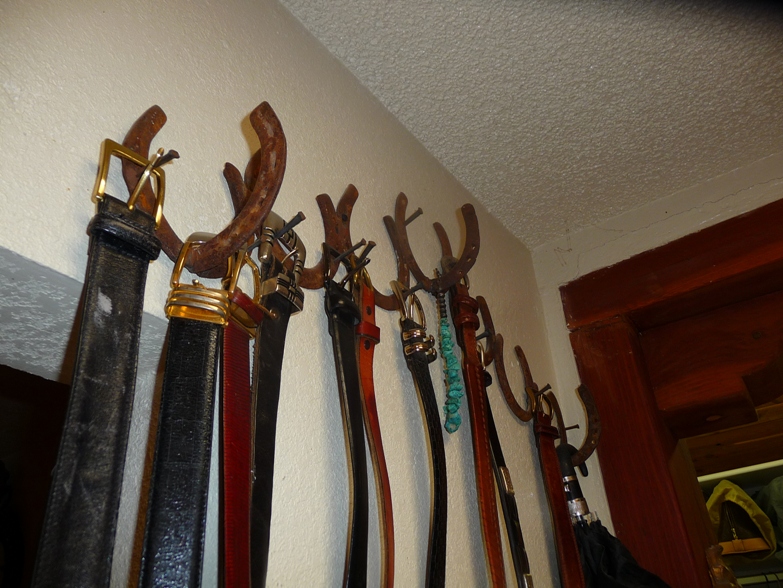 Itís our years of experience that sets us apart from other Western Belt Hangers for sale who typically get their products from outside the U.S.A. OK Corrals has been welding Farm and Ranch products made from American Steel by American citizens since 1996. Many of our designs are Exclusive! and can not be found elsewhere! We take Pride in our Commitment to Great Service, Client Satisfaction, and Building The Best Quality Belt Hangers Available. These are Ideal for Father's Day, Mother's Day, Aniversaries, Christmas, and Birthday Gifts. Many of our customers have been coming back to us to order more year after year because of our dedication to providing the Best Western Belt Hangers for sale in America! — We are confident that You Will Too!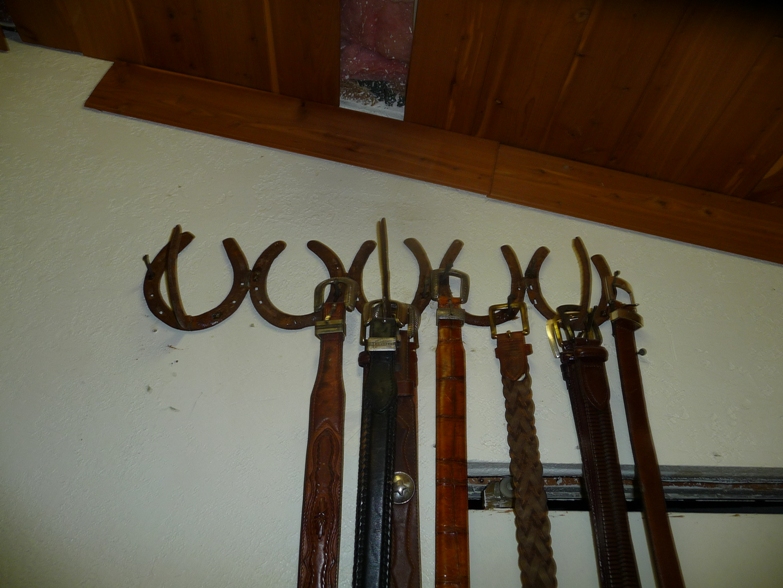 Cowboy Belt Hangers For Sale
GREAT QUALITY + NICELY DETAILED
AUTHENTIC WESTERN AMERICANA BELT HANGERS -WEIGHS 4 1/2 LBS.
Discover the Fastest, Easiest way to find belts, umbrellas, purses, and accessories. What a Great Way to organize your closet or hang one by the front door. Made for all types of belts, or anything else that you need to find in a hurry. Hand made from Arizona horse shoes.
The staff at OK Corrals are a vital part of our service. These American men and women are the most dedicated and hard working steel belt hanger fabricators in the business. Not only are they highly trained, Our employees take pride in making sure that our clients get exactly what they want.
Small Belt Hangers
Only $39.95
Arizona Owned & Operated Since 1996.