All Sizes! Better Prices!
Custom Quality Built Bird Aviaries For Sale in Southern Arizona. We will match any taste or budget. We take pride in offering the best quality bird cages and aviaries to save you precious time and money. An Arizona Aviarium provides a window into the life of happy content birds. An aviary is a large enclosure for birds. Developed primarily for the health and well being of all types of birds by providing a draft free environment, ample flight space, natural nesting materials, privacy, fresh air and timed lighting systems. These aviaries for sale are made in Southern Arizona provide the elimination of the need to disturb the birds and their natural habits such as nesting, laying eggs and raising their young. Our Exclusive Mess Free design allows you to spend more time watching and less time cleaning. Aviaries allow birds a larger living space where they can fly. Choose from a large range including a variety of designs, we have an Arizona bird aviary for sale to suit your bird type and backyard size.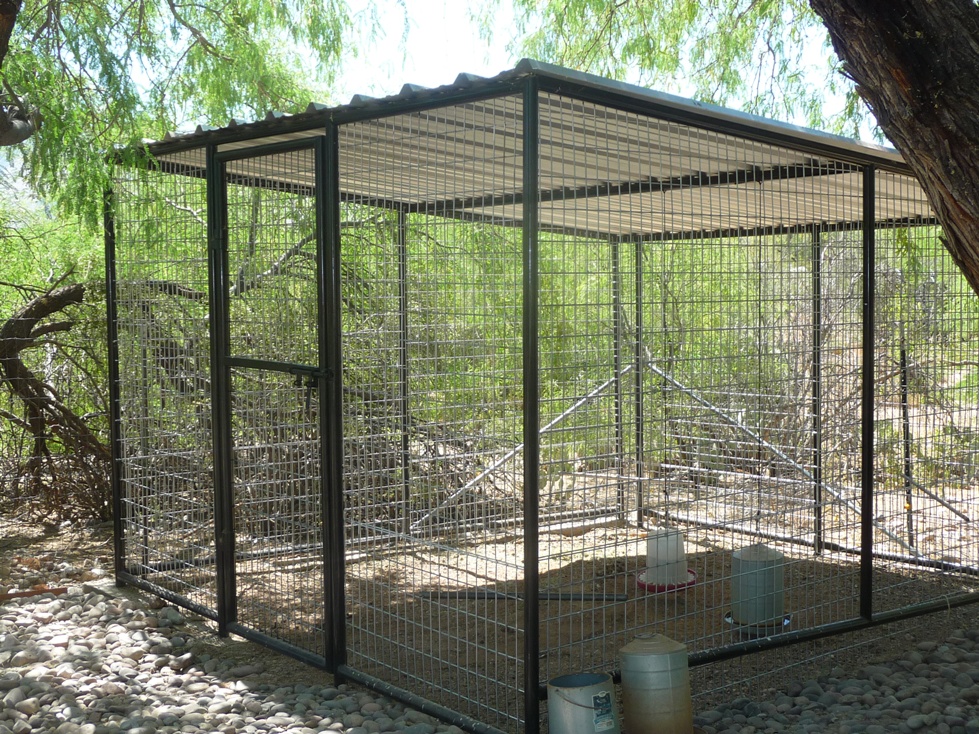 Special Prices On Orders Starting
Custom Built In Phoenix! Better Prices! All Sizes!
Currently Available Bird Aviaries For Sale!
Our Custom Made Aviaries for sale feature sliding or hinged doors and have a range of shelving styles and sizes to support breeding boxes. We can supply steel dividing walls to separate different breeds and windbreaks for the comfort and safety of your favorite birds. Installation is simple, but if you prefer, a OK Corrals installer can put your aviary together with no fuss. Available in quality galvanized steel or choose from 6 available colors. AZ aviarium offers solid steel, hand crafted bird cages for sale without the mess and upkeep. Some would call these large bird cages for sale while others call them aviaries. Our aviary is a solid steel structure. These aviaries sell for twice the price at pet stores. Solid steel bird cages and large bird aviaries made by American citizens with quality USA steel. An Excellent way to add a peaceful envirnoment in hotels, motels, hospitals, assisted living homes, funeral homes, or in the lobby of a hospitality suite. A quality enclosure to watch and listen to beautiful birds that love our bird cages and aviary for sale made in Southern Arizona. Our aviaries are everywhere. As a breeding bird cage, our aviary is something to look at. We've been around and asked many aviary lovers, how do you like our bird cage? We have bird feeders, corn cob and other things that bird cages have. A wonderful place for canaries and finches to live and raise their baby birds. An aviariy is also called an Aviarium. We want you to have the lowest prices on solid steel bird enclosures in your home or work place. Would you like to design an aviariy, bird case or bird cage that can accommodate Green Headed Conures, Cockatoos, Cocatiels, African Grey Parrots, Sun Conures, Parakeets, Pigeons, Lovebirds, Amazons, Blue Crowned Conures, Macaws, and other types of Exotic Birds for pets.
YOU ARE ALREADY BUSY ENOUGH!

Choose one of our many Bird Aviaries For Sale
and YOU'RE DONE! Relax! Go Have Some Fun!