All Types, All Sizes, Low Prices!
BEFORE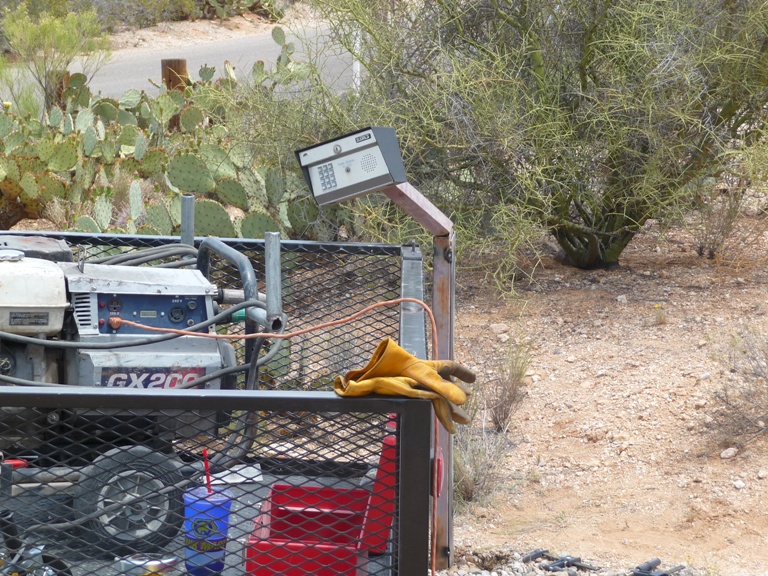 Gates Repaired, Fabricated, & Installed In Chandler, Mesa, Phoenix, Gilbert, Scottsdale, Phoenix and Surrounding Areas in Arizona.
AFTER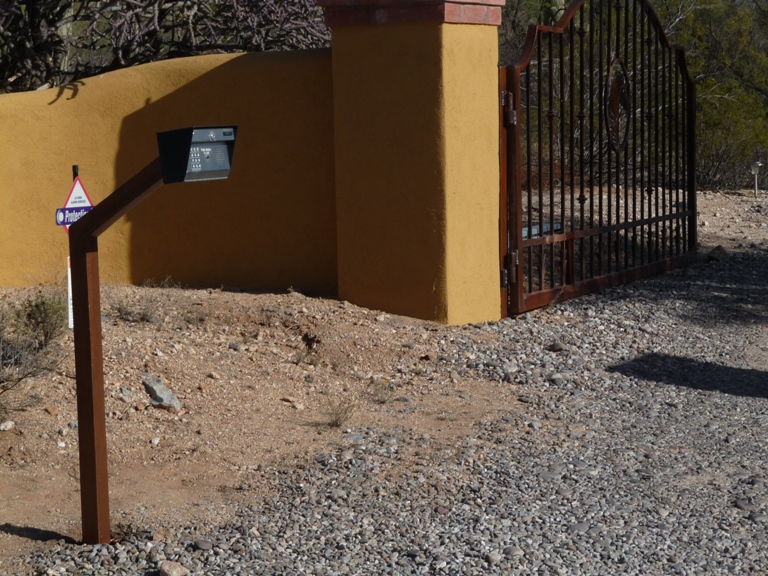 Above Pictures Of Automatic Gate Opener Fixed In One Day!
We Can Have A Estimator At Your Site
433-
In Southern Arizona we offer low cost gate repair in Phoenix and Maricopa County. We also install, fabricate, weld and work on wrought iron, steel fencing, horse corrals, dog kennels, livestock and animal containment systems for sale. Considering our fast, reliable service and low prices, there are no better way to have your gates repaired in Phoenix and Surrounding Areas AZ. Our experienced welders can come to your home and business or we can fix anything in our Pima County workshop facility. If you are in the market for metal fencing or gates installed in Pima County Arizona, we have many to choose from with your choice of long lasting, durable galvanized or 14 gauge American made steel! Our welding services offers a wide range of affordable ways to repair your gates in Southern Arizona that can accommodate any taste or budget. We take pride in offering you the most reliable, comprehensive, fully guaranteed, and lowest prices on welding and repairing gates in Phoenix and Surrounding Areas.
BEFORE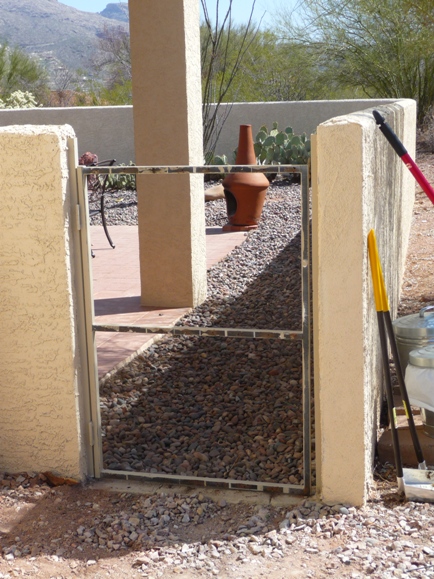 Searching for Southern Arizona industrial and residential gate and fence repair can be a tedious task due to lack of time and resources. We serve Phoenix and Surrounding Areas and the surrounding area with specialized welders at a low price and fast response time. Since 1996 we have installed and repaired all types of gates for Arizona home owners, property managers, real estate agents, business owners, industrial companies, farms, and ranches from wrought iron and steel to wood and chain link! We cover the entire area of Pima County including Phoenix and Surrounding Areas, Marana, Eloy, Avra Valley, Catalina, Three Points, Picture Rock, Oracle, Green Valley, Sahuarita, Corona, and Vail.
AFTER
Backyard Gates Installed In As Little As 1 Day!
If you search for Companies That Repair and Install Gates in Phoenix and Surrounding Areas. Please give us a call for a FREE Estimate at 602-773-1093 or 520-730-7020. All material is guaranteed to be as specified. All work will be completed in a substantial workmanlike manner as according to specifications submitted and on time. We offer the lowest prices and fastest repair time on gates for driveways, entry ways, swimming pools, dog kennels, horse corrals, livestock fencing, back yards, or any other type of enclosures in Southern AZ.
Custom Steel Gates fabricated & Installed in As Little As 1 Week!
BEFORE
AFTER
This Double Gate Fabricated & Installed For As Little AS $2,200 And Up!
Check Out Our Arizona Wrought Iron Fencing Below!

Click Here For Details
CALL FOR FREE ESTIMATES!
602-773-1093 or 520-730-7020
Copyright © 2006 - 2016 OK-Corrals.com

A Phoenix and Surrounding Areas Family Owned Business Since 2006