Low Cost Dog Runs Installed In Arizona
Call:(602) 773-1093 or (520) 730-7020
Email: JacksOkCorrals@gmail.com
The Best Way To Contain Dogs On A Budget!
ALL SIZES! ALL BREEDS! Ask About Our Exclusive Snake Proof Kennels & Runs!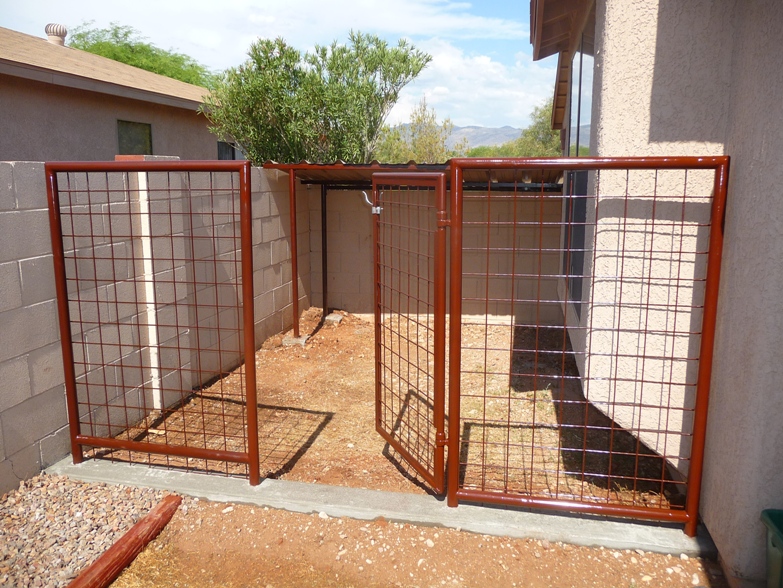 10 FT Panel With Gate Plus 5 FT X 10 FT Shade
Trying To Find Low Cost Dog Runs In Arizona? Let us help you with installation of just the pet containment system at the right price. If you are considering installing an Arizona dog run or kennel on a budget, the lowest cost involves using three existing walls and simply fencing off the 4th side with a gate. This saves time, money, materials, and labor. Please Notice The 2 Inch Schedule 40 Posts and 6 Gauge Welded Wire Is Set in 12 Inches Of Concrete. This results in No Digging Out & Preditors Can't Dig In! We can also install our Exclusive Snake Proof Wire if needed. We offer expertise regarding installation of dog kennels in Arizona that you can not find elsewhere. We cover the entire animal containment and housing spectrum in Arizona with comprehensive knowledge that others can not offer. Choose from a wide variety of styles, designs, materials, with your choice of colors. Call us or email us for a FREE ESTIMATE on building and installing just the right pet enclosure for your dogs or other 4 legged members of your family.
Simply send us an email with your inquiries at Contact Us
1996 Copyright © OK Corrals
Arizona Owned & Operated Since 1996.