Gilbert Arizona
Dog Kennels Installed
All Sizes, Best Quailty, Pet Safe Guaranteed!
We Install Animal Containment Systems in Gilbert AZ!
Absolute BEST Quality Dog Kennels installed in Gilbert Arizona. No two are alike because they are ALL Custom Built to your specifications. We ake pride in the fact that our kennels are Coyote Proof, Bobcat Proof, Mountain Lion Proof and we can even make it snake proof if that is a concern. If you are seeking the Best Gilbert Pet Kennel Company you have found the right website. We deliver and install a multitude of outdoor dog enclosures, kennels, and runs in all areas of Gilbert Arizona. All material is guaranteed to be as specified and we don't get cheap on steel when it's your furry family members that are involved. We use the Heaviest, Strongest, and Best Quality steel in the industry. Our welded wire is 4 times thicker welded to a steelframe that is 3 times thicker than any kennels for sale that you find on the internet. Our Arizona dog runs in Gilbert are available in your choice of colors. All work will be completed in a substantial workmanlike manner as according to your specifications. The pictures of dog runs on this page are just a few kennels for dogs that we installed in Gilbert. Don't settle for kennels that leave your pets vulernable to harmful predators. We offer a large selection of dog runs and kennels in all sizes that will accomadate any type of pets. Since 2006 we have installed hundreds of dog runs, kennels and pet enclosures in all areas of Gilbert AZ. We take pride in offering the absolute best craftsmanship, heaviest steel, and highest quality that you can find anywhere!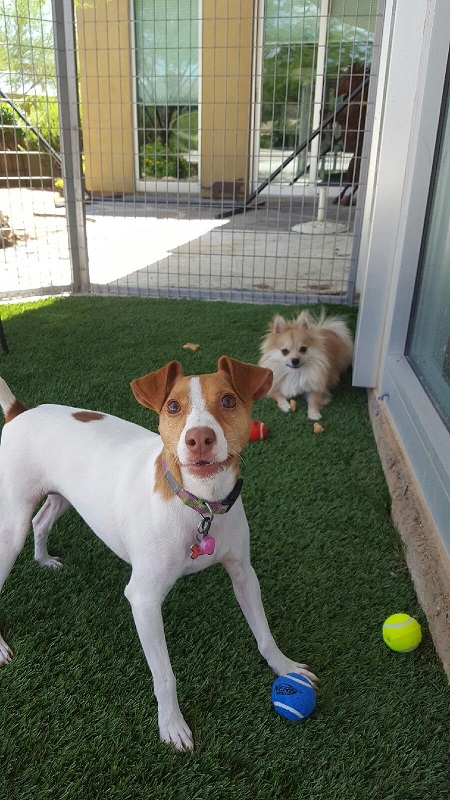 Exclusive Snake Proof Dog Runs & Kennels!
We install rattle snake wire on Dog kennels for sale to protect your four legged family members from unwelcome intruders in Gilbert Arizona. This is a great way for your turf dogs to play and exercise unleashed in a safe and protected environment. These fenced in areas for dogs is also convenient when you want to entertain friends or family in your yard where your puppies can watch without the intruding. We are manufacturers of portable and permanent kennels, pet enclosures, pens, runs, training tables, and other tools to teach and discipline your dog's behavior.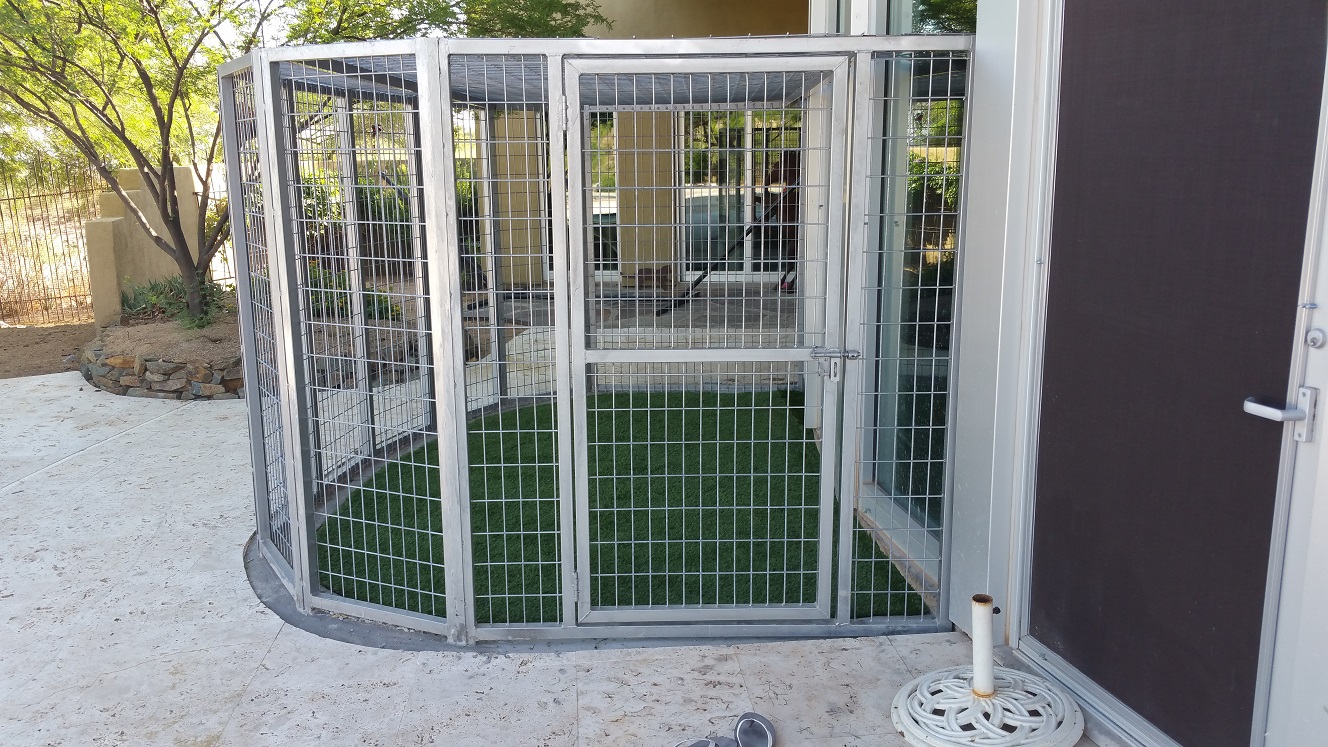 Snake Wire Camouflaged For Aesthetic Value
The owner of these dog runs did not like the silver rattlesnake wire so we painted it. Notice the snake proof wire on the right side of the above picture is the same flat black color as the wrought iron fence which is more pleasing to the eye. Notice in the dog run pictures below we painted the snake wire the same color as the fence so you can barely see it.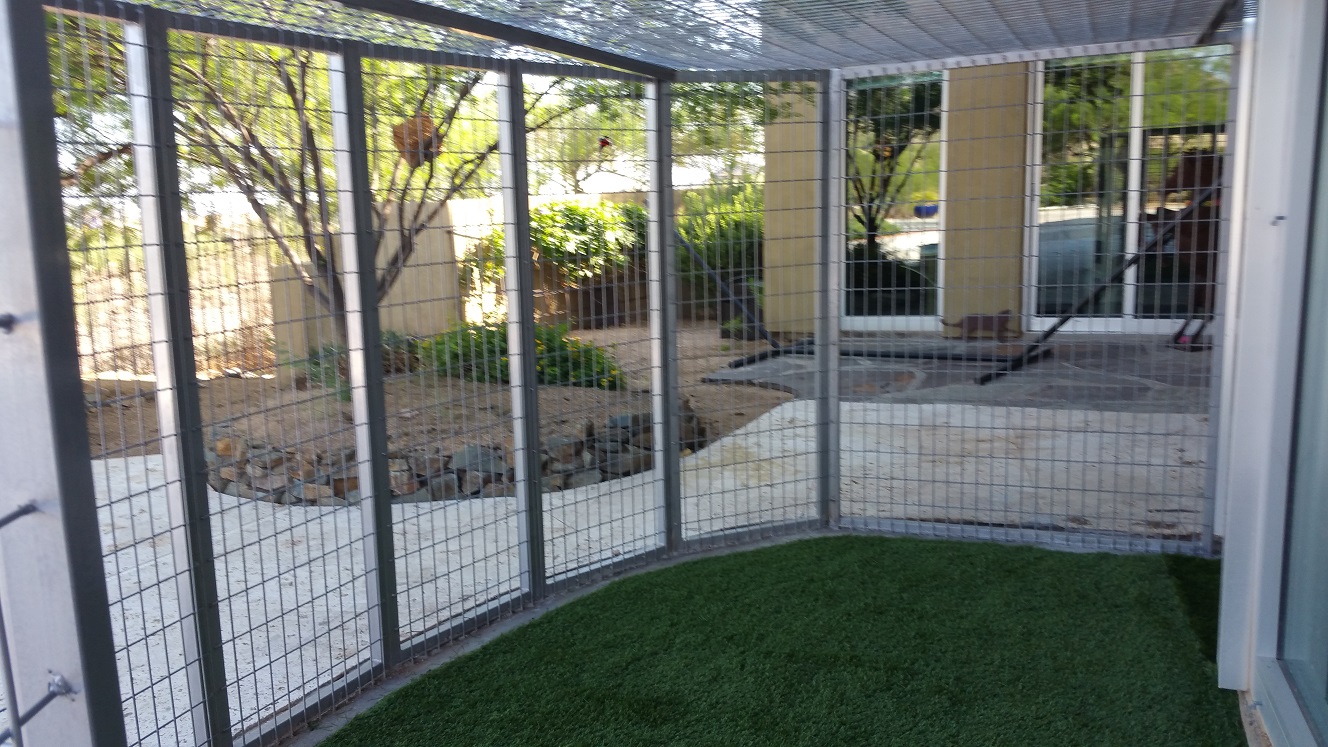 We also offer a large selection of other animal enclosures, pet containment systems, livestock fencing, horse corrals, bird aviaries, shade for horses, sheds, dog training tools, gates, wrought iron work and low cost welding services in AZ. Whether you are seeking dog runs in Phoenix or pet enclosures in other areas of Gilbert Arizona. You will find a better selection by accessing our website anytime night or day, 24/7/365 and see how easy dog containment can be. We deliver set up, and install to the entire animal housing market in Gilbert AZ. Take time to bookmark this website if you are considering low cost snake proof kennels and dog runs in the future.
Planning To Travel With Pets?
Click Picture Below.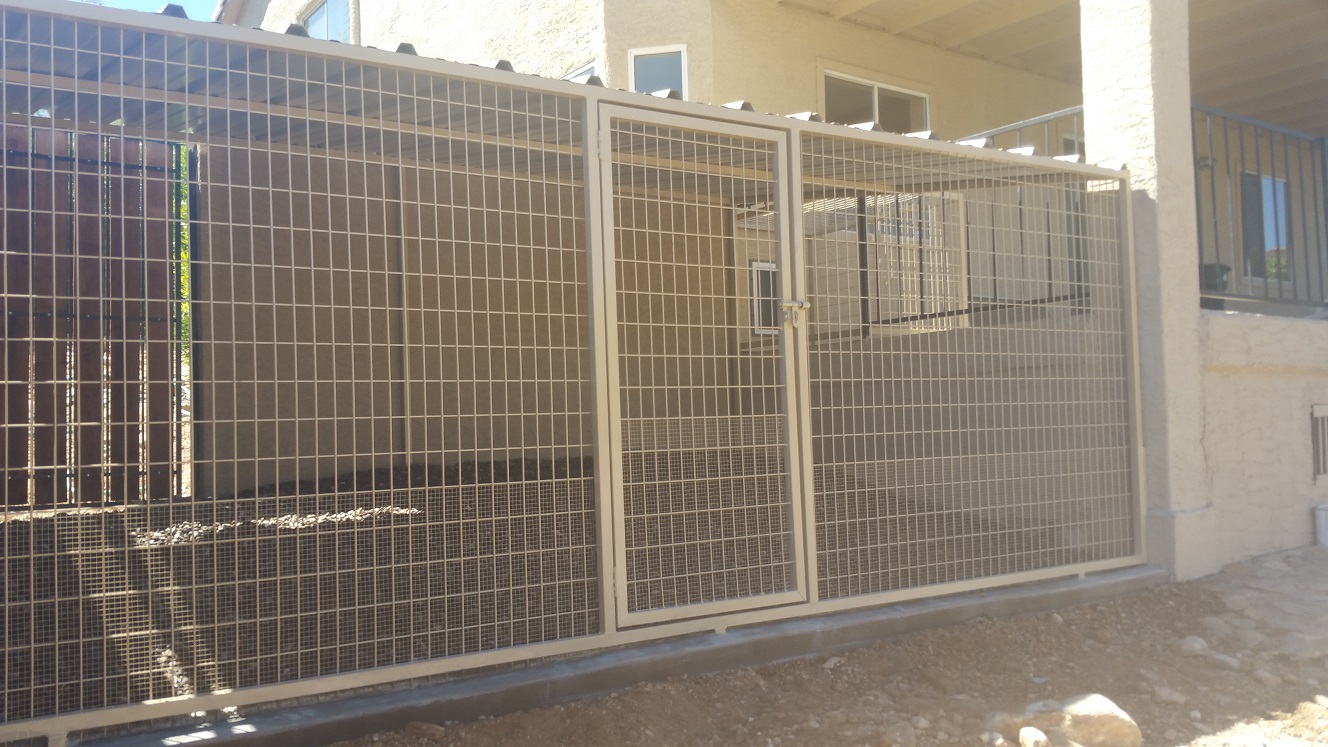 Contact Us For FREE DOG RUN Estimates At FREE ESTIMATES
Or Call (602)842-7060 or 520-730-7020
Dog Runs Installed In AZ!
Better Prices, All Sizes, Delivered To All Areas of Gilbert Arizona.
Dog Runs, Kennels, Houses, Pet Containment Systems, Livestock Fencing, Pens, Horse Corrals.
YOU ARE ALREADY BUSY ENOUGH!

Choose one of our many Dog Kennels and Runs in Gilbert Arizona
and YOU'RE DONE! Relax! Go Have Some Fun!