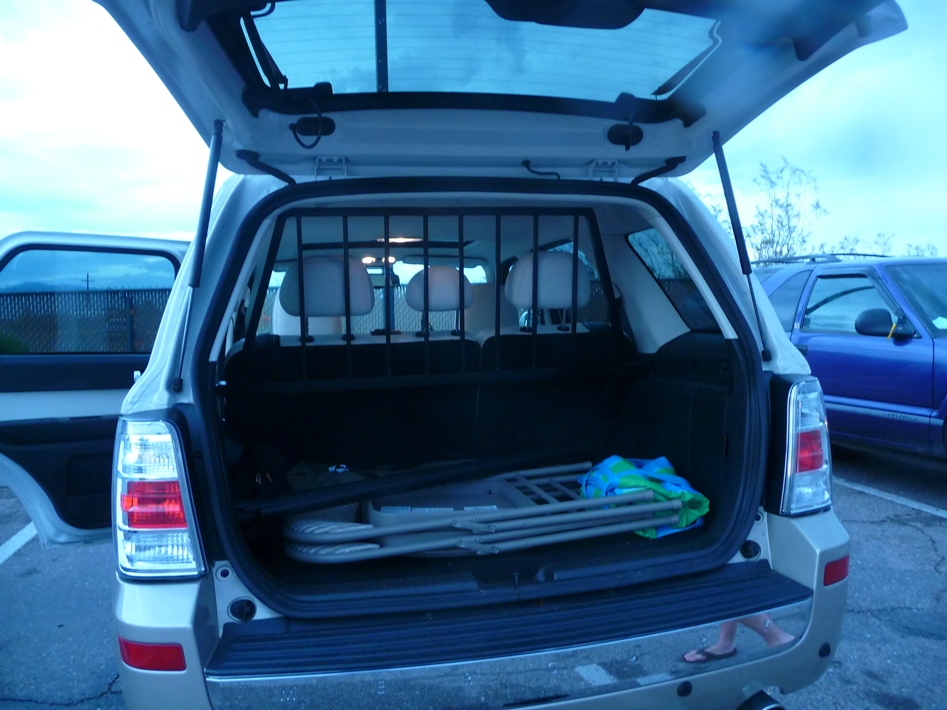 Heavy Duty Dog Barriers For Travel
SUVs, Cars, Cross Overs, Minivans, & Vans!
Extra durable, versatile and portable pet kennels don't have what our heavy duty backseat dog barriers offer. Keep BIG Dogs Safe In Back Seat With This Adjustable Metal Pet Barrier!
Custom Made Vehicle Pet Barriers To Fit Any Year, Make, or Model!
(520) 730-7020
Discover the benefits of our portable dog barriers the next time you travel. Great for long or short trips. Our Heavy Duty pet barrier is the strongest animal restraint product on the market. Ideal for Aggressive and Large Dogs. This makes traveling with dogs safe for driver but also offers the enjoyment of taking Fido where ever you go without hassle. Don't settle for Travel Crates that are overpriced or unsatisfactory. Give Fido more room than portable dog kennels for sale. With it's pressure mounted installation you will be able to have this travel barrier for big dogs installed in seconds with no tools required. Tips for traveling with pets include giving them room to stretch out which results in less stress. This also keeps your large dogs and the driver from injury and accidents on long or short trips. Install this welded steel vehicle pet barrier in the rear of a car or SUV to keep your four-legged friend safely in the back. Bring your pets with you when traveling or going out for a car ride. Do you have a hard time keeping them in portable car kennels? Our Back Seat Dog Barriers are perfect for traveling with passengers.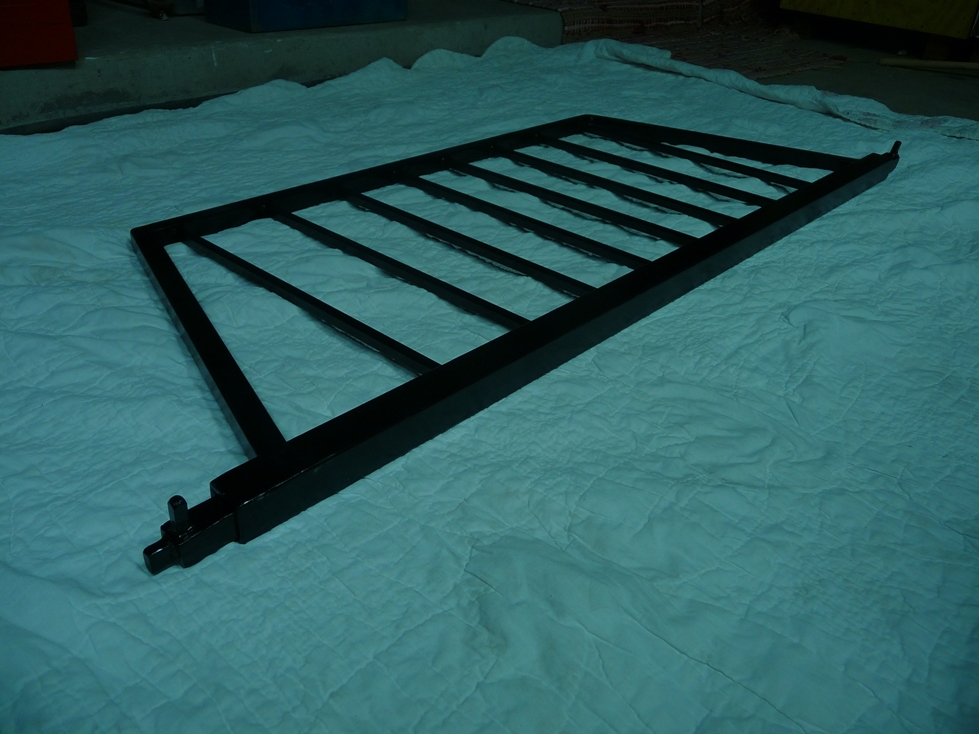 Why settle for portable dog crates or travel kennels and pet cages that are made of wire and plastic? Our strong large dog barriers are made from 1 inch welded steel that provides the utmost in safety for you and your dog while traveling. Our patented spring loaded animal restraint system installs in your vehicle in minutes with no tools required. Made from heavy 14 gauge steel square or round tubing and is custom built to fit any car, SUV, truck, minivan, or cross over. These Back Seat Steel Pet Barriers keep pets from inviting themselves into the front seat area by blocking the space between the rear of the automobile and the front seat. This Universal Pet Barrier gently keeps your pet in the cargo area of your car, minivan or SUV. Made with heavy-gauge tubing. Better than carry on dog crates or portable kennels for cars, ours is the strongest pet barrier on the market. With its pressure mounted installation you will be able to have this barrier installed in seconds.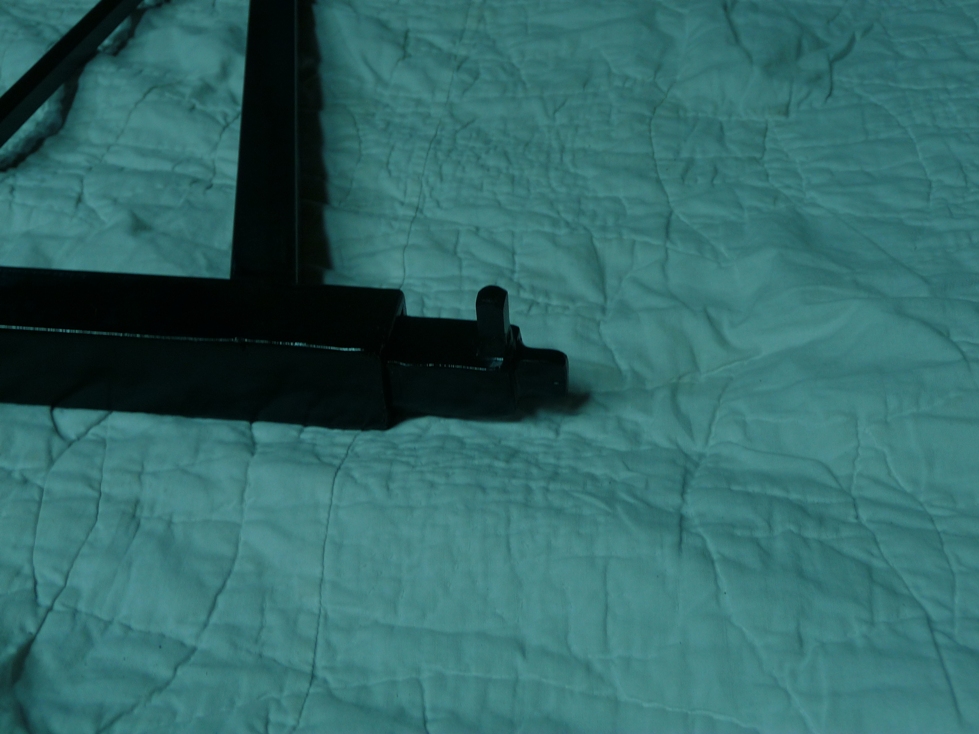 Exclusive Design Spring Loaded Dog Barriers To Fit All Automobiles Without Drilling Holes
If you are wondering what is the best way to travel with dogs or how to bring pets on vacation trips with a pet barrier for SUVs? Our 14 gauge steel portable kennels are custom made to fit cars, trucks, cross-overs, minivans and SUVs. If you are going to be traveling with dogs or are planning road trips with pets. We offer custom built Heavy Duty dog barriers made of 1 inch steel bars that are guaranteed to keep you in the front seat and even big, agressive dogs in the rear. Our steel bars are far better than flimsy wire mesh style vehicle pet barriers. Our Vehicle Pet Barriers with exclusive spring loaded ends protects the interior of your car, SUV, van or other vehicle and minimizes distractions for you by confining your pet to the rear. Our Large Dog Travel Barriers can be custom made to fit most SUV's, minivans, is easy to install and optimizes cargo space. Dogs can move around freely in cars without being a safety hazard to themselves, the driver, and the passengers.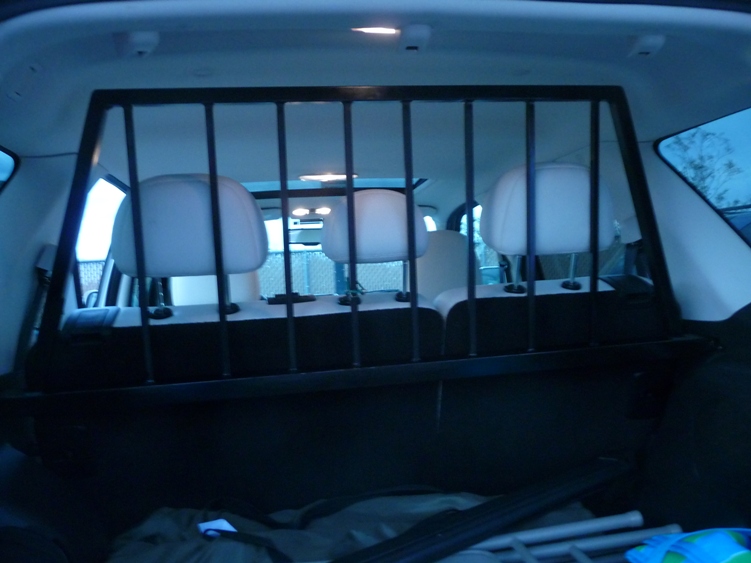 Simply The Best Auto Pet Barriers For Travel!
Our Exclusive Design Vehicle Pet Barrier with spring loaded attachments protects the interior of your car, SUV, van or other vehicle and minimizes distractions for you by confining your pet to the cargo area and still giving them plenty of room to enjoy the ride. Our Versatile Design Heavy Duty Dog Barrier for vehicles adjusts to fit minivans, SUV's, wagons and crossovers. Includes instructions on installing portable dog containment system to achieve the perfect fit.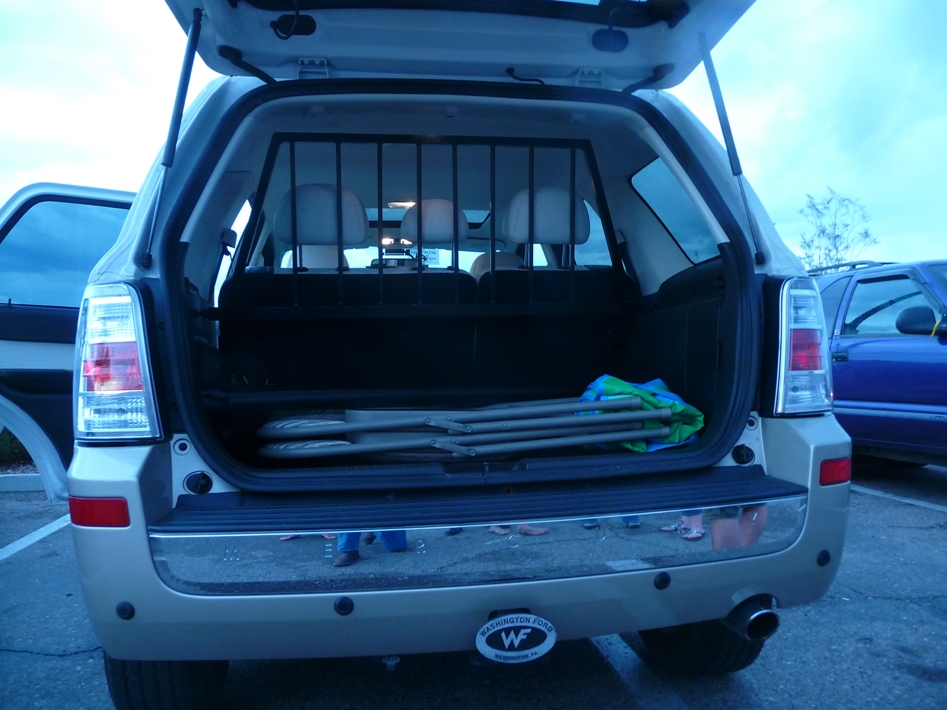 Better Than Dog Crates Or Portable Kennels!
If you are seeking the best quality travel kennels for Large Dogs let us suggest our custom made durable pet barriers that provide safety, security, ventilation and visibility without the confinement of a wire kennel. Now you can keep pets of any size in the back of your vehicle without using a cage.
Portable Pet Containment For Travel!
Keep Large Dogs In The Backseat but give them extra room to relax during road trips. Keep your dog safe in the backseat with this adjustable metal pet barrier. Installs easily, just adjust to the size of your car, SUV, van, pickup, or cross over vehicle.
You can order custom fit dog kennels for travel and find a better selection by accessing our website anytime night or day, 24/7/365 and see how easy traveling with pets can be. Each heavy duty vehicle dog barrier has complete instructions, full details, and contact customer service information located in the United States of America. We build animal containment systems for Large Animals. We have dog kennels in stock now or we can custom build any type of portable kennel that can be ready within a month. Take time to bookmark this website to view the most current information available.
Many of our portable animal containment systems are Exclusive Designs that can not be found elsewhere. We also install permanent dog kennels and runs. Save your Gas and Time by calling (520) 730-7020 for FREE ESTIMATES on best quality kennels for dogs. You can also email inquiries about the lowest prices on portable dog kennels to FREE KENNEL PRICES.
Low Cost Portable Pet Containment Systems!
Better Than Dog Crates, Better Prices, All Sizes, All Vehicles!
Traveling With Large Dogs Or Aggressive Animals!
YOU ARE ALREADY BUSY ENOUGH!

Choose one of our many Heavy Duty Pet Barriers for Cars,
and YOU'RE DONE! Relax! Have A Fun But Safe Trip!