Your Own Personal Exclusive Brand or Logo
Will Not Be Duplicated, Reproduced, or Sold To Anyone Else!
Horse, livestock, and cattle brand logo designs originated in the farming, ranching, and dairy industry. However today they can also used as registered trademarks to identify restaurants, bars, saloons, retail shops, clubs, and commercial or residential driveways. If you can think of a ranch brand, logo, or design, call us with a discription and we can fabricate it from thick durable steel. What a great idea to personalize your gate, driveway, farm, ranch, or place of business. The above picture of a Rocking Brand customized logo was ordered by a Bed and Breakfast in Lexington Kentucky. Don't settle for steel, iron, or metal fabricators and manufacturers that at are overpriced or unsatisfactory. We build custom made ranch brands for restaurants, farms, estates, gates, corrals, entertainment establishments, shopping centers, saloons and bars in all sizes and prices that will match any taste or budget. We offer a large selection of metal art creations made from U.S.Steel in Arizona and shipped to all areas of America. Please visit our HOME PAGE to see the many currently available customized steel art creations in stock or email us with ideas for your own personal logo or ranch brands for sale. For years we have welded, fabricated, and shipped Custom Sheet Metal Designs to all areas of The United States. We take pride in offering the Absolute Best Prices on Custom Metal Work, Farm and Ranch Brands For Sale that you can find anywhere! You Won't Be Disappointed. We Won't Let You Down.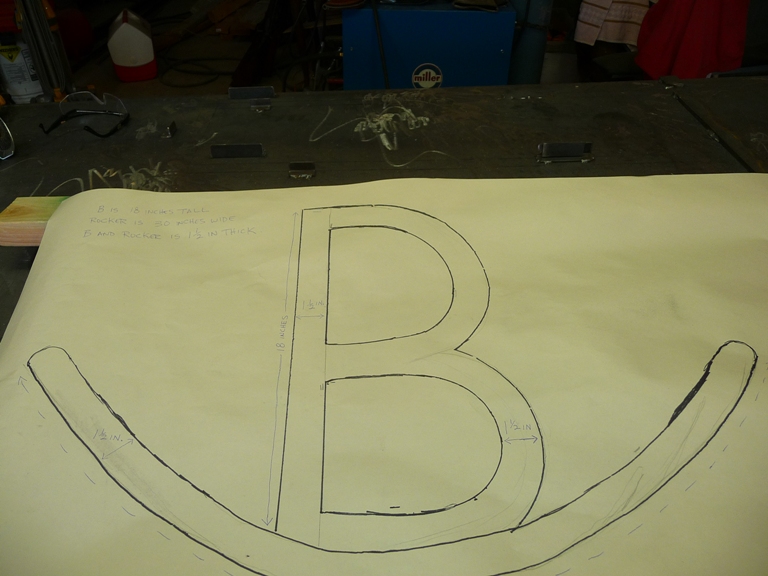 First We Will Submit an Illustration of Logo or Ranch Brand For Your Approval.
Below are some cattle ranch brands and illustrations of livestock logos to give you ideas on what we can weld or fabricate for you. The art of reading livestock brands to the inexperienced, resemble hieroglyphics. However to experienced Arizona ranchers, they become a readable language. With practice and an understanding of some important brand terms, the average person can easily acquire basic skills in reading family farm logos and ranch brands. The ability to read these symbols like any other language, follows certain rules. This is referred to as "callin" the brand." Brands are composed of capital letters of the alphabet, numerals, pictures, and characters such as slash / , circle O, half-circle

, cross +, _bar, etc, with many combinations and adaptations. Letters can be used singly, joined, or in combinations. They can be upright,

XIT, lying down or "lazy," (lazy S)

, connected ( V B connected)

or combined,

(V B combined), reversed,

(reverse B), or hanging

(V hanging S). Figures or numbers are used in the same way as the letters. Picture brands are usually used alone, for example (ladder)

or (rising sun)

. There are three accepted rules for reading brands. Read from the left to the right and from top to the bottom as

(bar m). When the brand is enclosed, it is read from the outside to the inside as

(circle S). The reading of a brand, especially the more complicated ones like U Lazy S Ranch Brand, in one locality or state may not correspond to the way it is read outside Arizona.
We also have custom made branding irons for sale. The brand logos are Exclusively Your Property. They will Not Be Duplicated or Sold To Anyone Else We register the pictures of western brands, metal signs, or illustrations of personalized logos and record them with each of our clients so that they are your personal property. If you need help with how to design your own family ranch brand, business logo, or steel gate logos just call us at 520-730-7020 or email us at Arizona Brands Designs and we can help you with How To Design and Register Your Own Personal Family Ranch Brands.
Steel Logos and Ranch Brands Made To Order!
Metal Bar Signs, Logos, and Ranch Brands At Better Quality, All Sizes, Shipped To Areas of America.
Custom metal commercial signs, steel logos, cattle brands, and personalized branding irons for sale.
PERSONALIZE YOUR GATE OR BUSINESS!

(520) 730-7020
Whether you are a western saloon owner, a ranch owner in need of a branding iron, or have a home or business, nostalgic metal signs make a great addition to any interior decor, gates, corrals, or exterior signs.