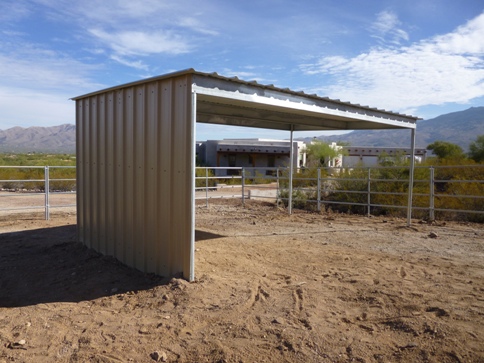 ---
Custom Built To Your Specifications!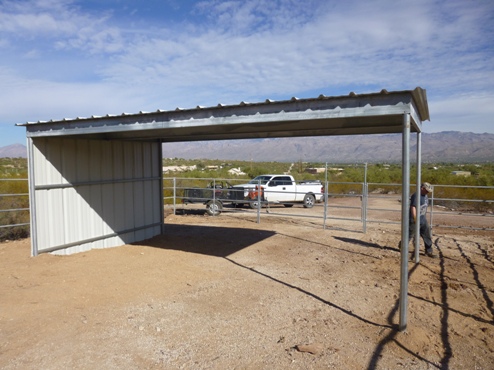 Arizona Horse Shades Installed
All Sizes! Best Quality! Fast Installation!
Horse Shade Installed In Southern Arizona
If you need to find Horse Shade Installers in Southern Arizona you have found the right website. With the hot summer sun and temperatures over 100 degrees at least 70 days a year your horses will thank you. We take pride installing the very best shade for horses that money can buy. We use super strong schedule 40 three inch posts set in 20 inches of concrete to hold up an 8 inch C-Purlin frame and then top it off with strong rust proof PBR panel roofing in your choice of colors. Searching for Arizona companies that install shade for horses can be a long and tedious process if you don't where to look. More often than not this leaves you at a disadvantage due to lack of time and resources. Many times this results in settling for horse shade installed that at are overpriced or unsatisfactory. We don't offer the lowest price horse shade in Arizona but in 10 years our metal structures will still look brand new and will outlast your grandkids. All you have to do is choose the size and color that is best suited for you. Let us show you how easy it is to have horse shade installed in AZ. Over one hundred Arizona horse boarding facilities, equestrian centers, ranches, farms, and home owners agree that our horse shade is the best value in Arizona. Pictures can be emailed to you by request at Send Me Photos. Since 1996 we have custom built and installed horse shade, mare motels, corrals, dog kennels, steel buildings, metal barns, custom gates, livestock pens and many other livestock fencing and shelter in Southern AZ. WEare proud to offer the Absolute Best Quality Horse Shade for sale in Maricopa County Arizona.
CALL FOR FREE ESTIMATES
(520) 730-7020 or (602) 773-1093
Special Pricing Available on
---
---