We Fabricate and Install the Very Best Dog Kennels Available in Arizona! Period!

Our kennels with shade will keep your four legged friend cool during the summer! Warm and Dry when it rains!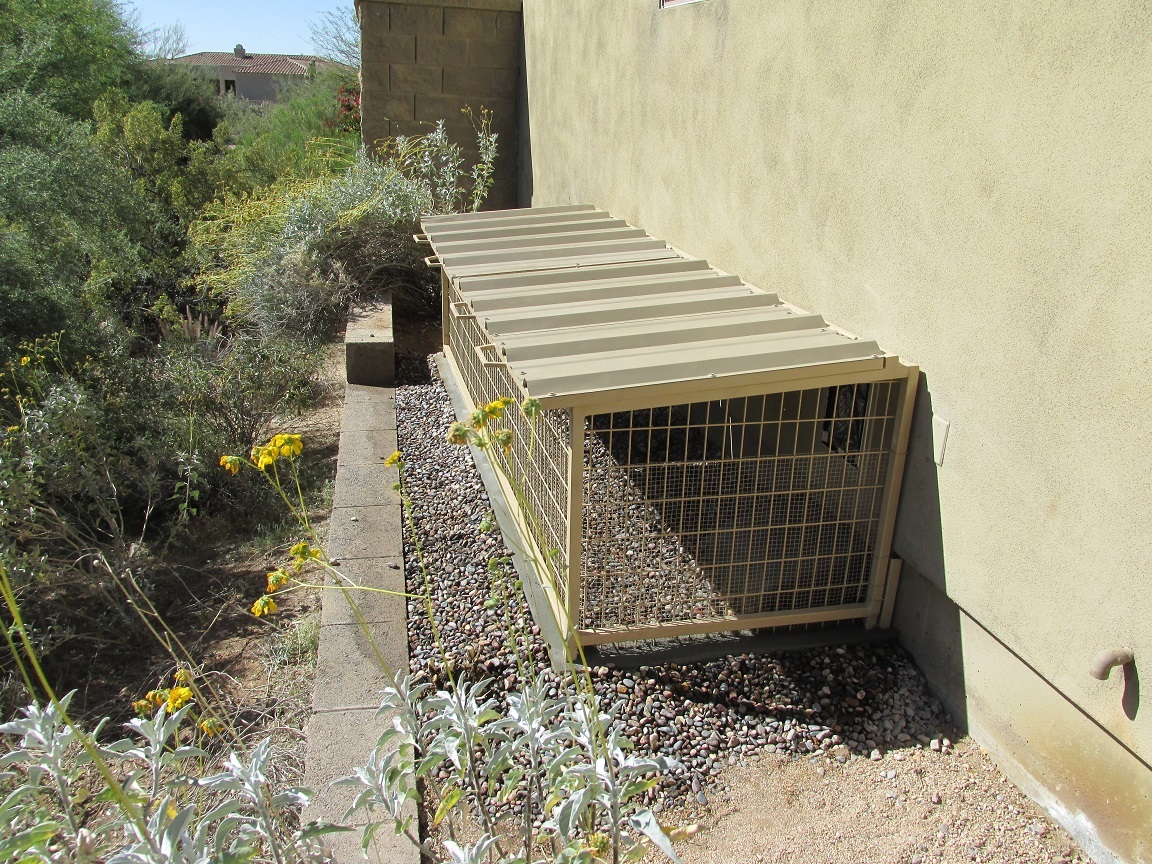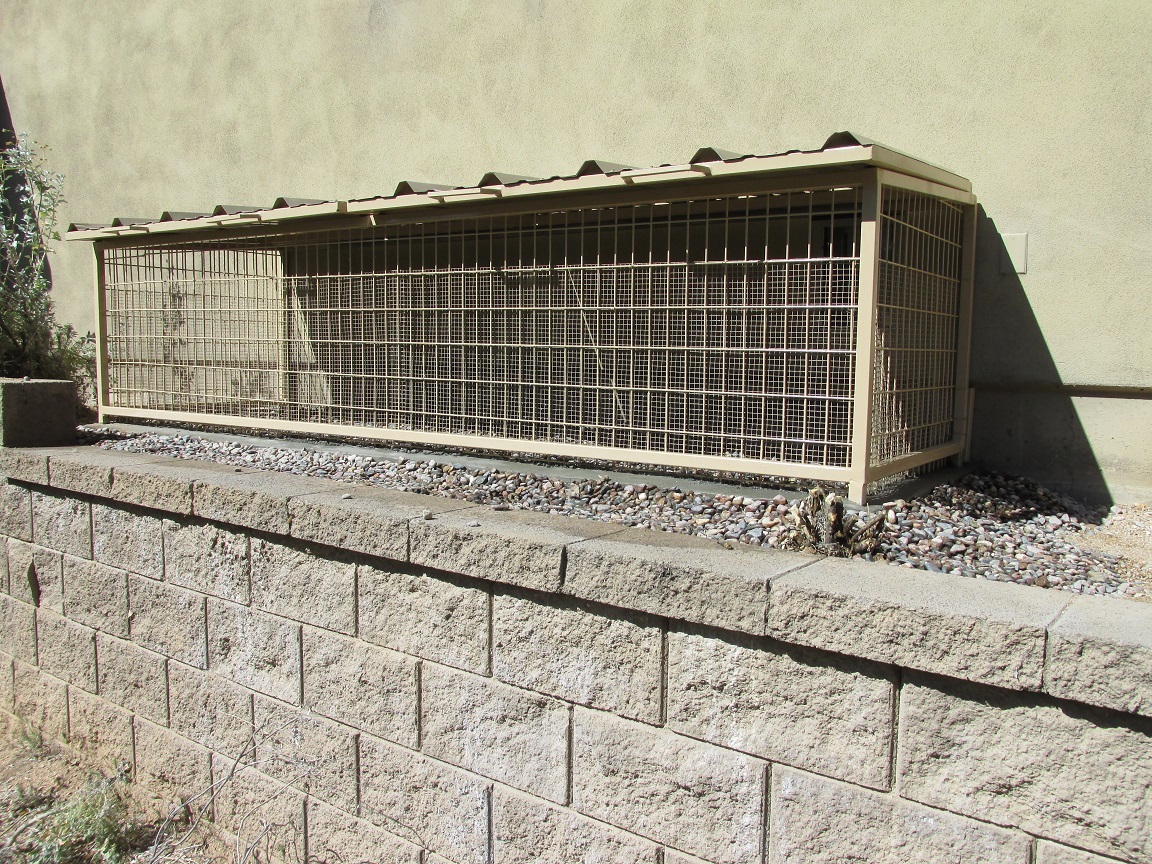 Low Profile Kennels Won't Obstruct Your View!

Easy To Clean Low Profile Design with Roof That Lifts To Open!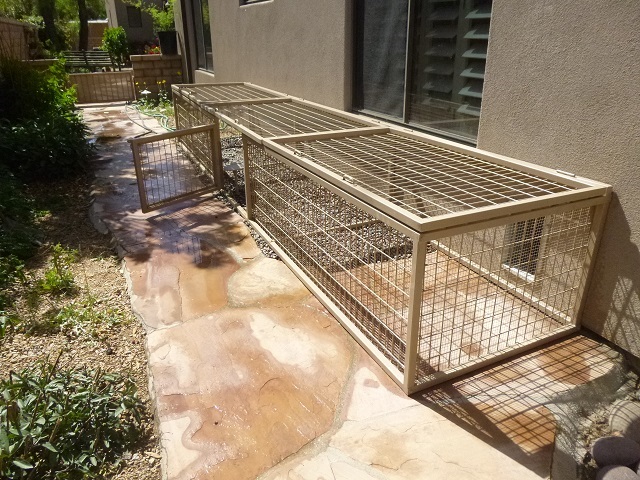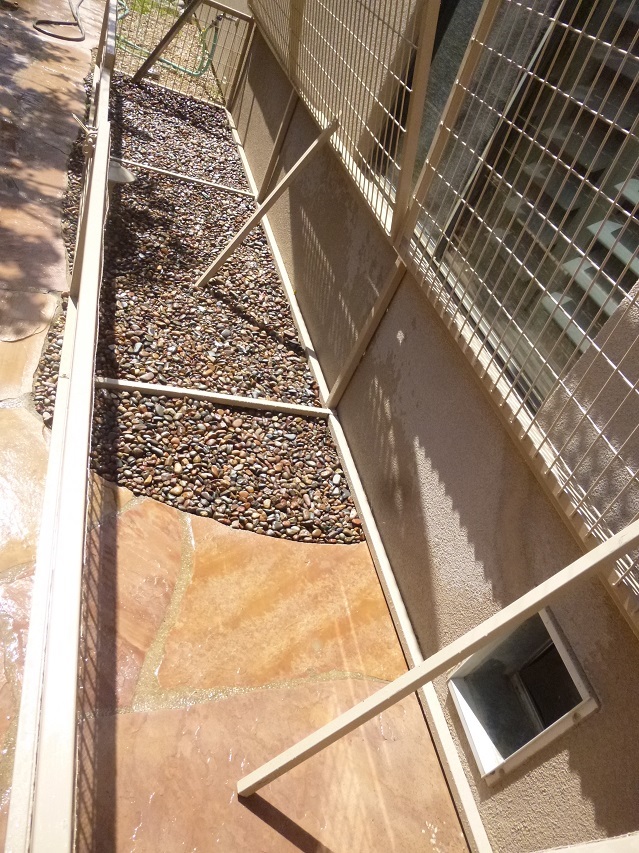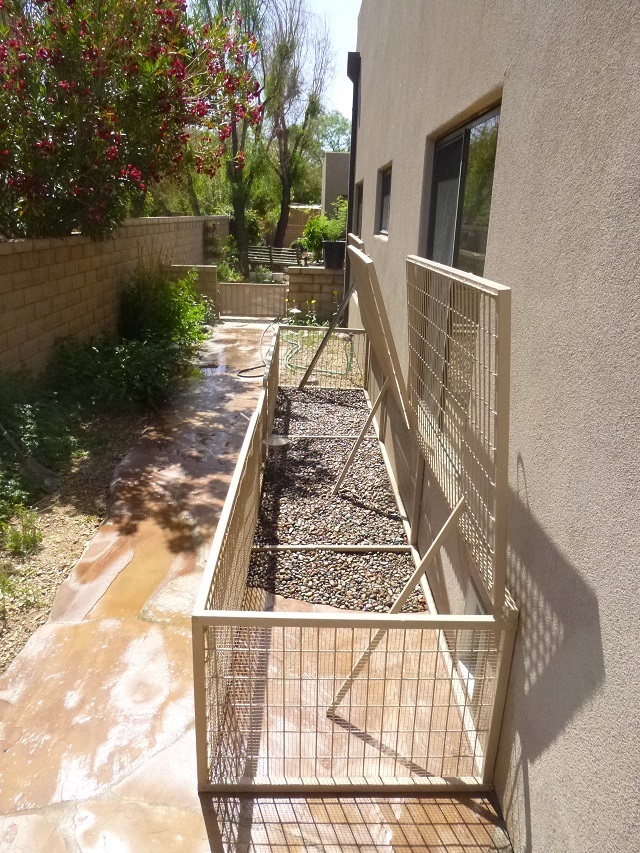 Rounded River Rock Floor Will Not Hurt Dogs Feet!

The Most Sanitary Dog Kennel Flooring is 1 Inch Rounded River Rock.
After You Pick Up Solid Waste, Simply Hose It Down so that Urine and Bacteria Soak into the Ground Leaving a Sanitary Surface!
Arizona Room / Walk In Kennel Combination!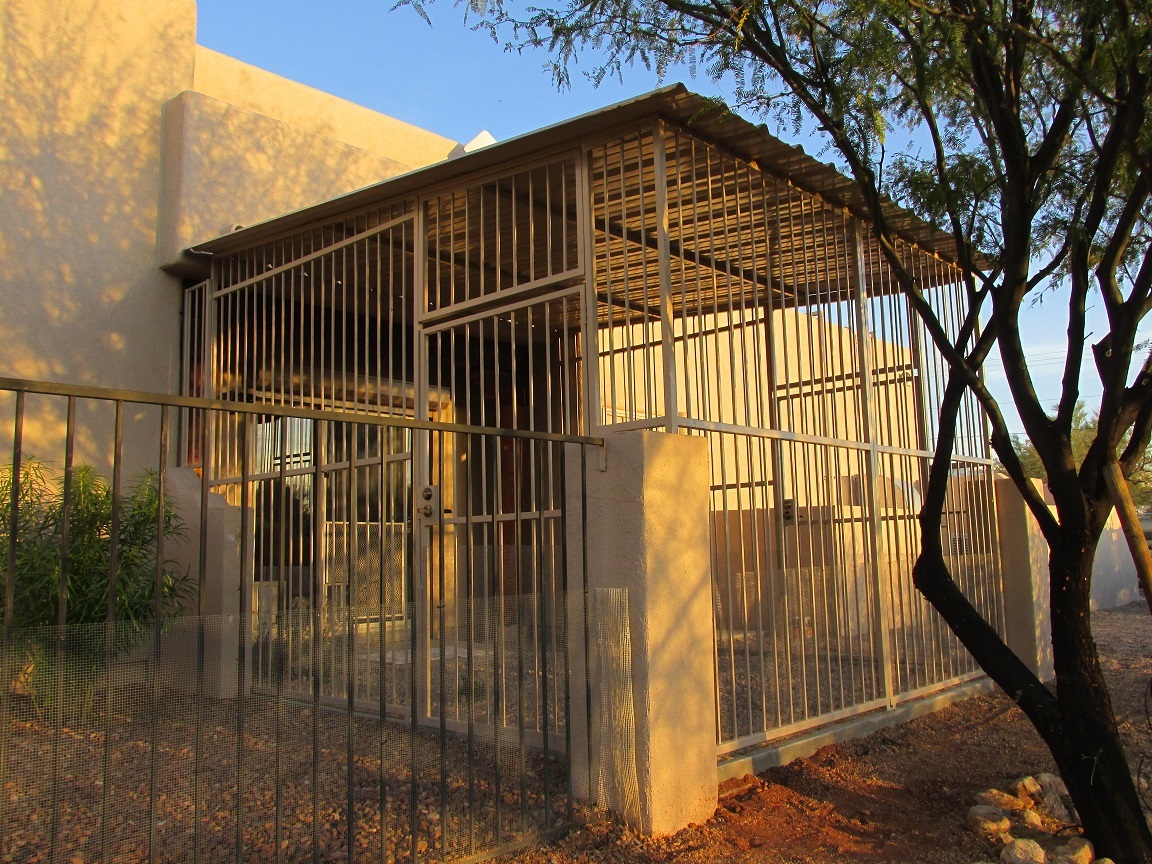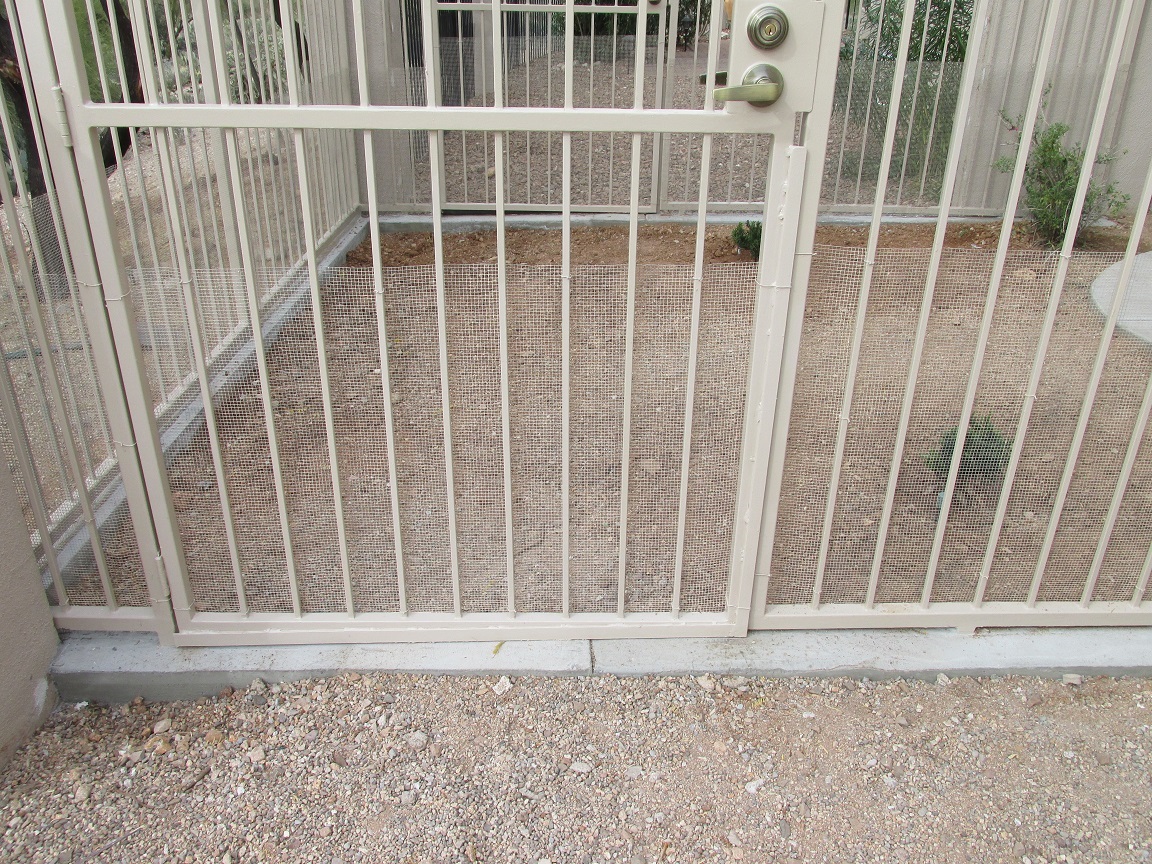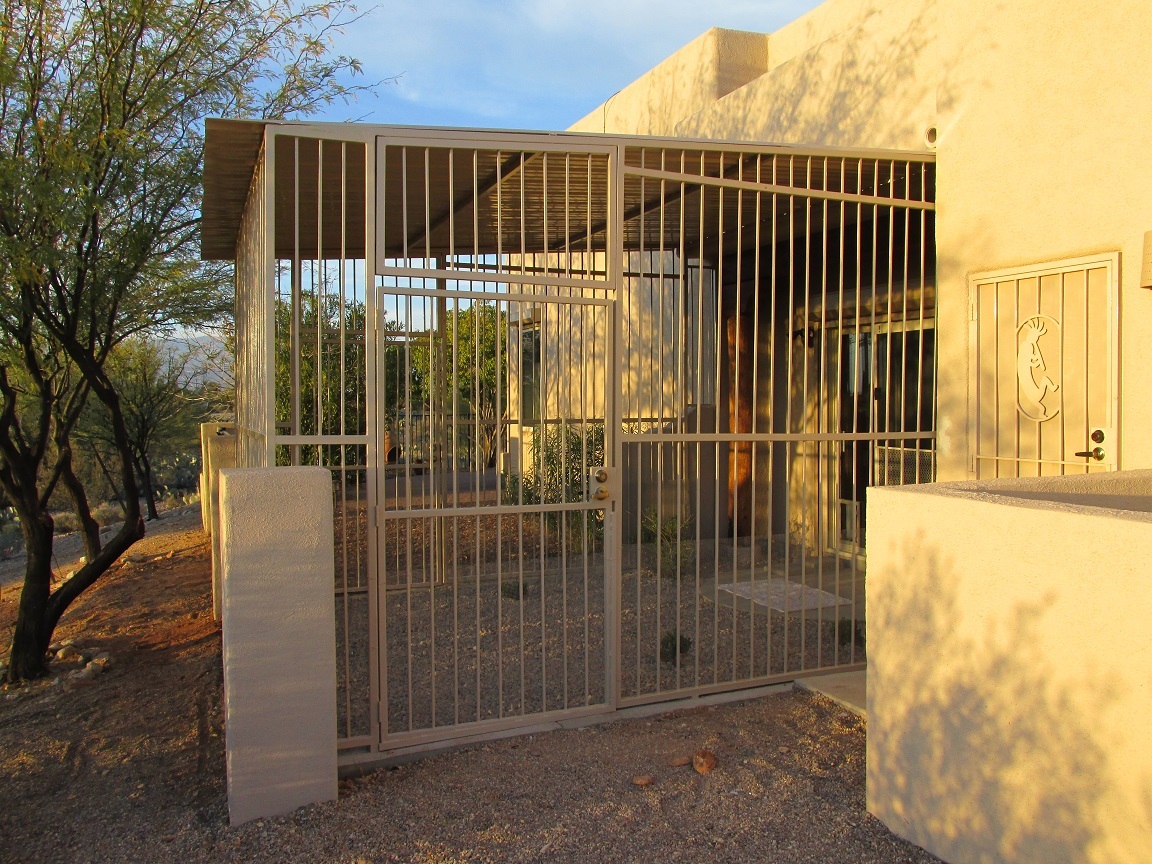 Exclusive Design Snake Proof Kennel Gates!

Please Note how the gate has a steel plate welded to cover all cracks & openings to keep snakes Out!
Also Note the snake wire that is set into concrete footing to assure your pet's safety.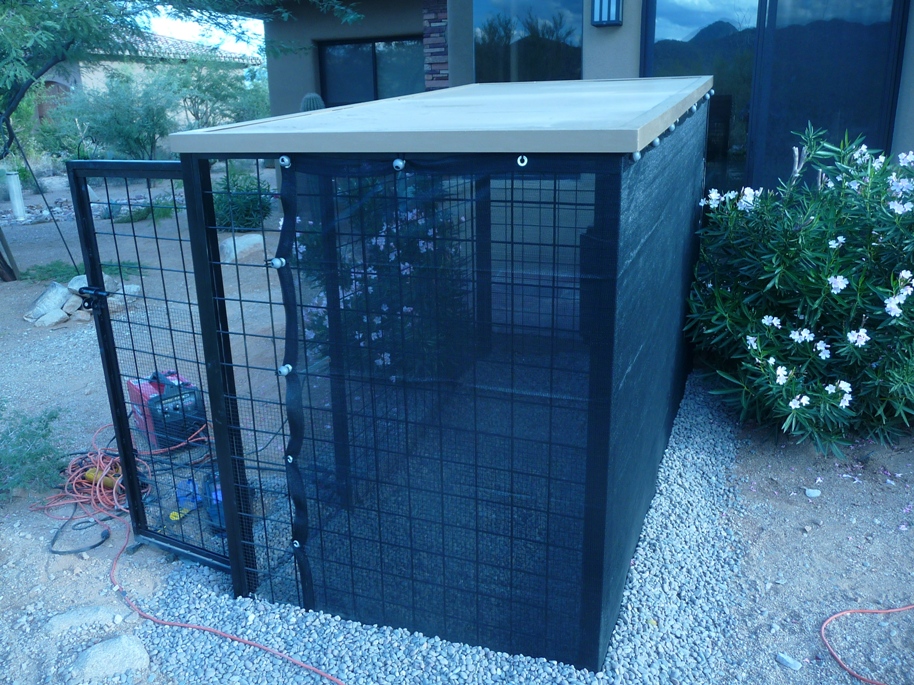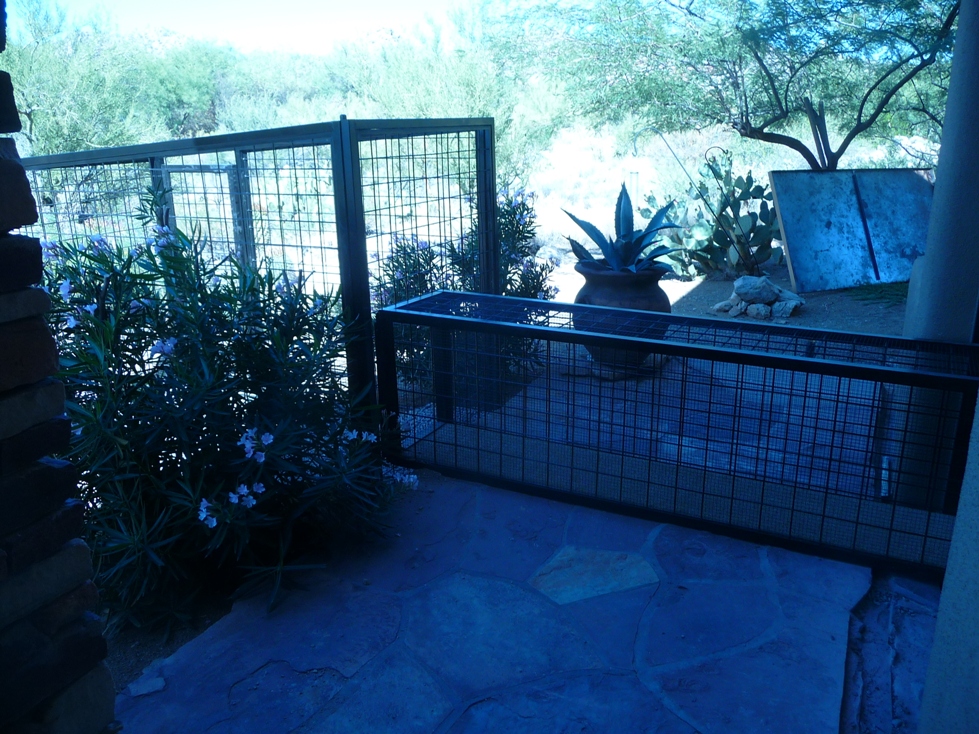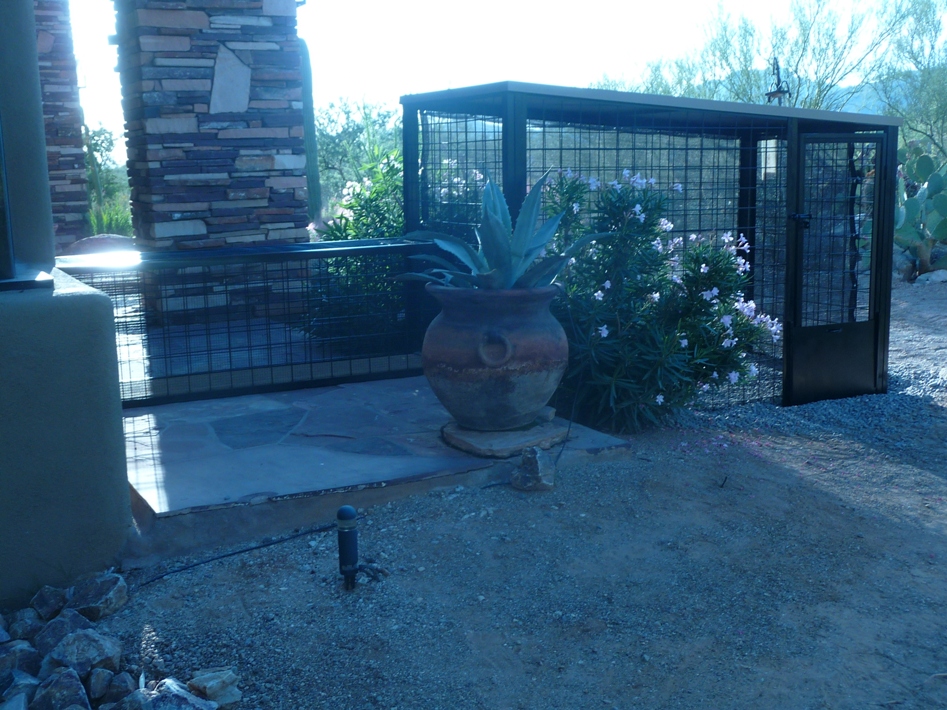 Absolutely The Best Quality Dog Kennels Available!

View Complete Details, Information, & Pictures of our full line of animal shelters and containment systems at our HOME PAGE. We install custom built dog kennels in All Areas of Phoenix Arizona and Maricopa County. We are kennel installers for Any Size, or Breed.
Exclusive Snake Proof Design Kennels For Dogs!
Save Time, Money, and Gas! — We can email you photos of the different types, sizes, and prices on our dog kennels in Phoenix AZ at Contact Us.
Over the past years our Exclusive Designed Predator Proof Kennels have saved Hundreds of dogs and cats from rattle snakes, coyotes, bobcats, mountain lions, wolves, aggressive dogs, and Anything Else that can harm you furry friends in the Greater Phoenix Area. Arizona Owned and Operated means that your dollars spent stay in the Valley Of The Sun and stimulates our economy. No matter what size or breed of pets you have, we can custom build and install the perfect kennel just for you.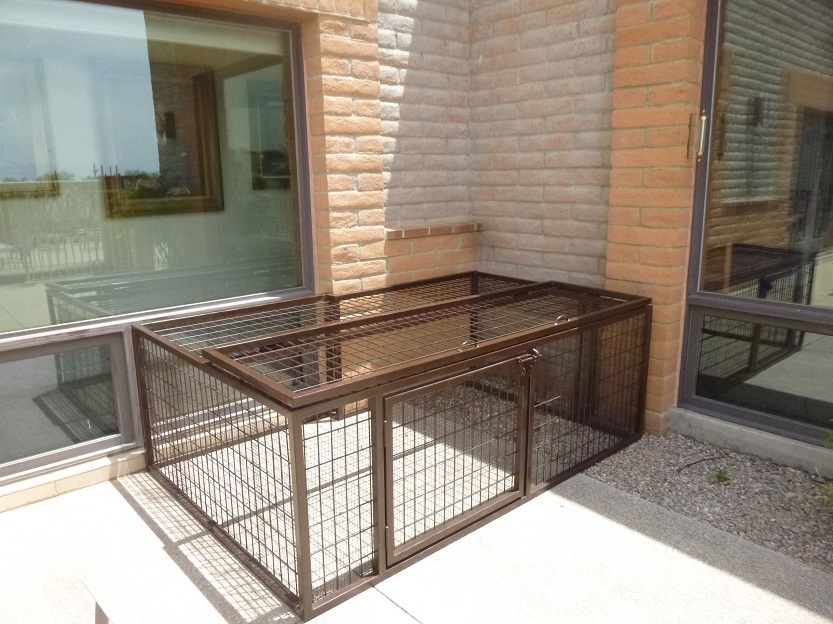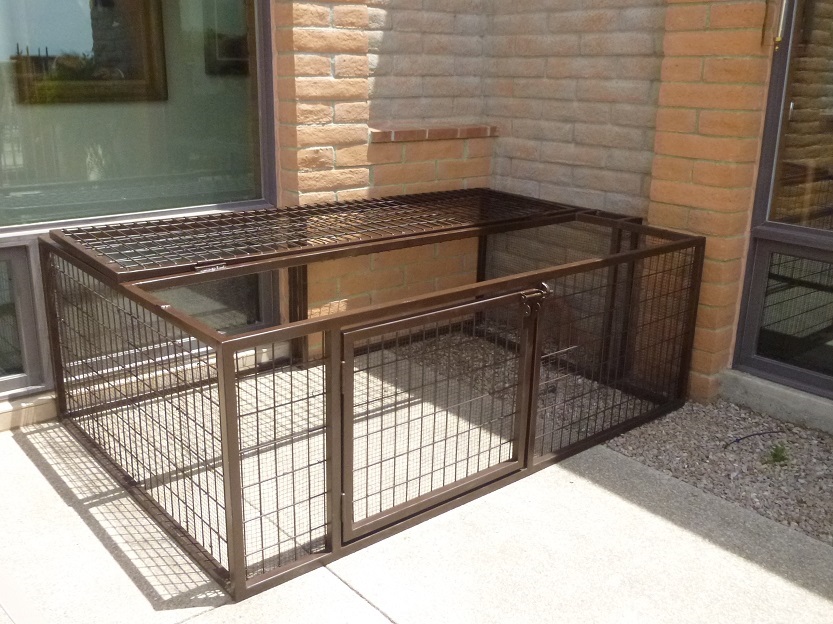 Itís our years of experience that sets us apart from other Phoenix Dog Kennel companies. Our extensive research and development has developed Exclusive Designs to Guarantee your pets safety! We take Pride in our Commitment to The Very Best Quality Dog Kennels, Great Service, and Client Satisfaction. Much of our work is from referrals and word of mouth. 98 percent of our clients say that they would refer us to a friend or family member because of our dedication to customer satisfaction. 98 percent of our clients believe that our kennels for dogs are the very Best Quality in AZ!
We are confident that You Will Too!
KENNELS THAT KEEP YOUR PETS SAFE!!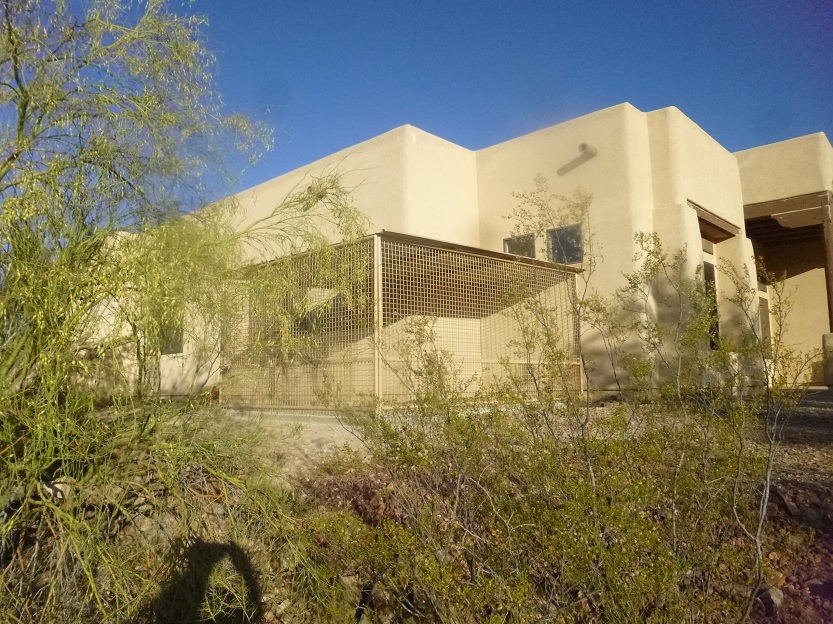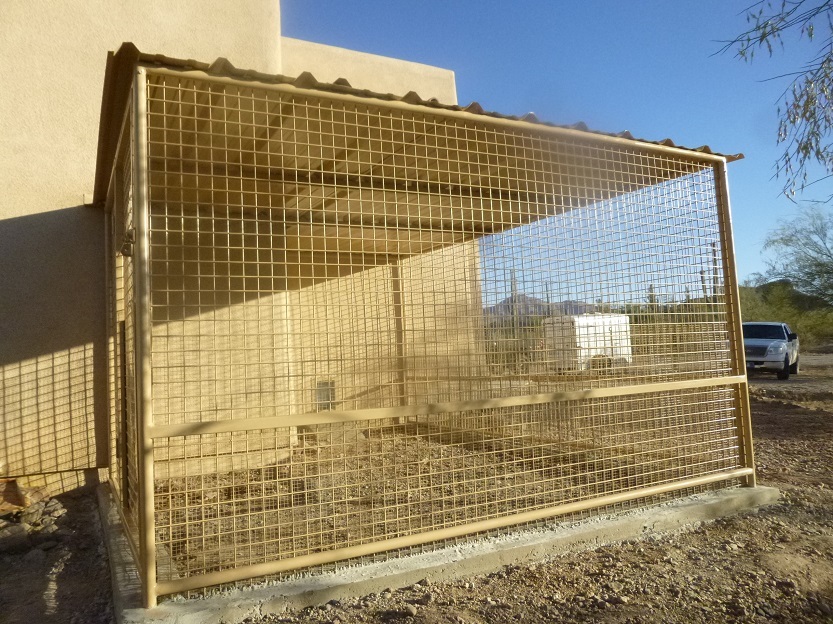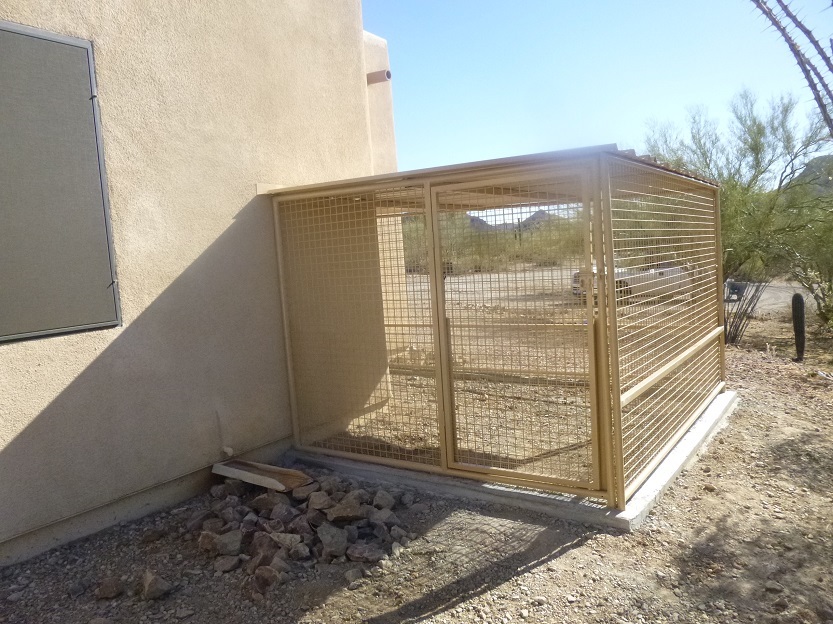 If you need kennels for dogs that keep coyotes, wolves, bobcats, mountain lions, and rattle snakes out. You have found the right place. The staff at OK Corrals are a vital part of our service. These are the most dedicated and hard working dog kennel installers in AZ. Not only are they highly trained, Our representatives take pride in listening to our clients making sure they get exactly the design, size, and color of the kennel requested. If you can imagine it. We can build and install it.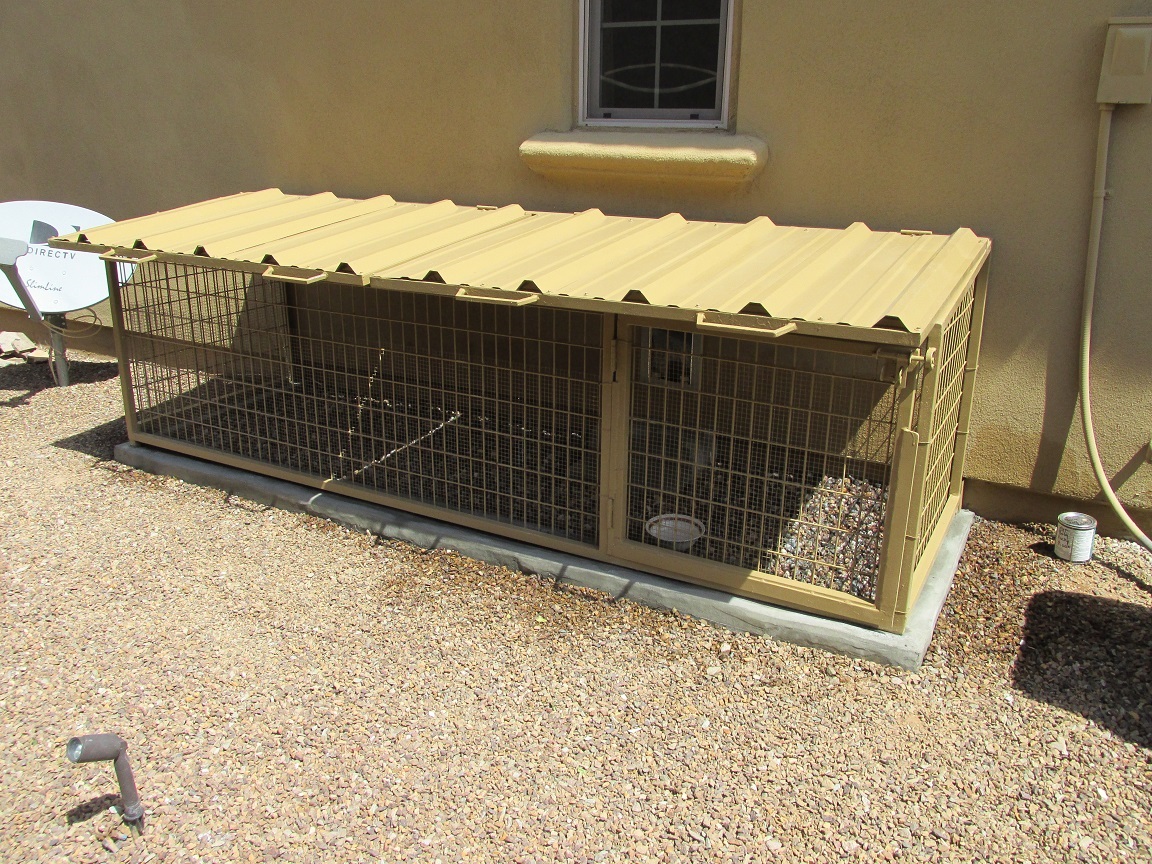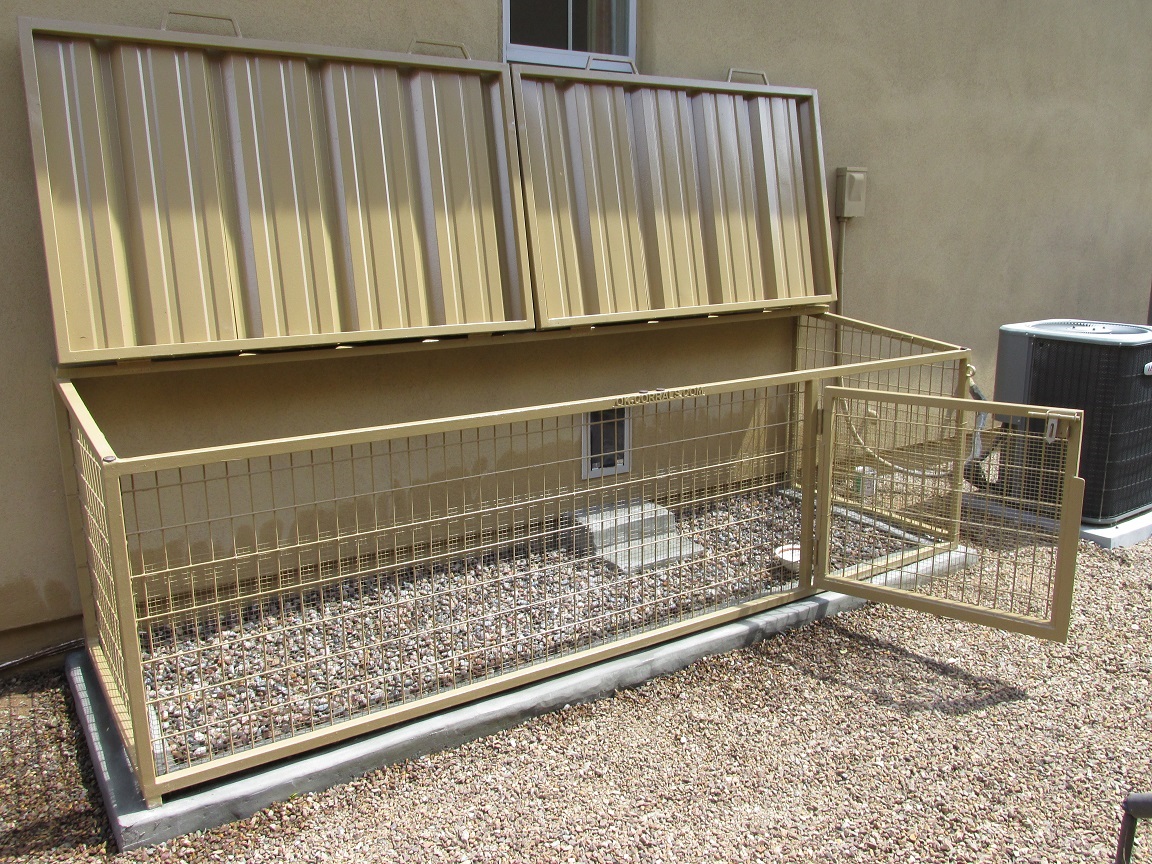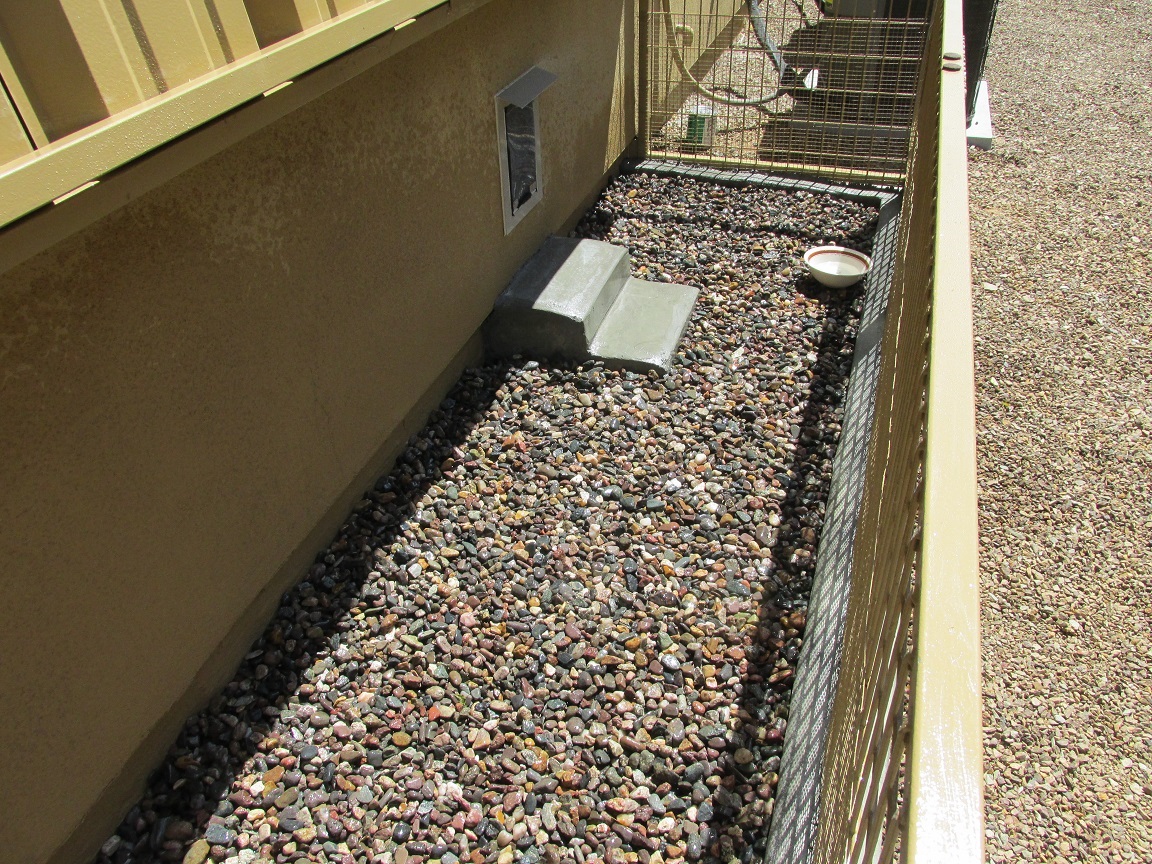 Best Flooring For Dog Kennels In Phoenix AZ.
We have found that the best flooring for dog kennels is small rounded river rock. The rounded smooth edges are comfortable for the feet and cool to the touch with the shaded roof closed. After you pick up and remove the solid waste, simply use a water hose on the river rock so that the bacteria and urine soaks into the ground leaving a sanitary surface. We can also build and install steps or a ramp if your dog is challenged when trying to get into the doggy door. We also install doggy doors starting at $400.00.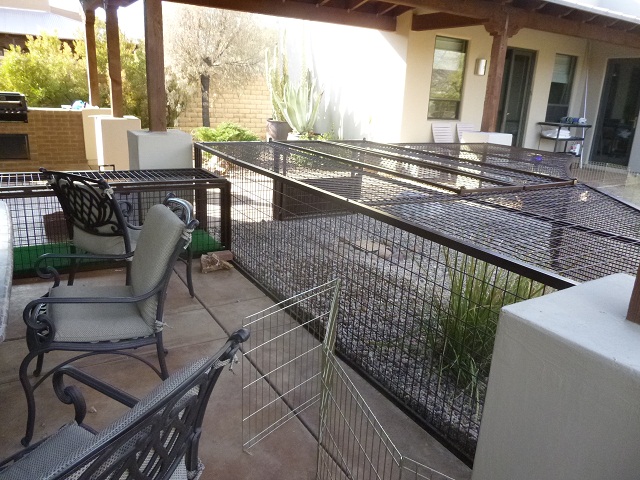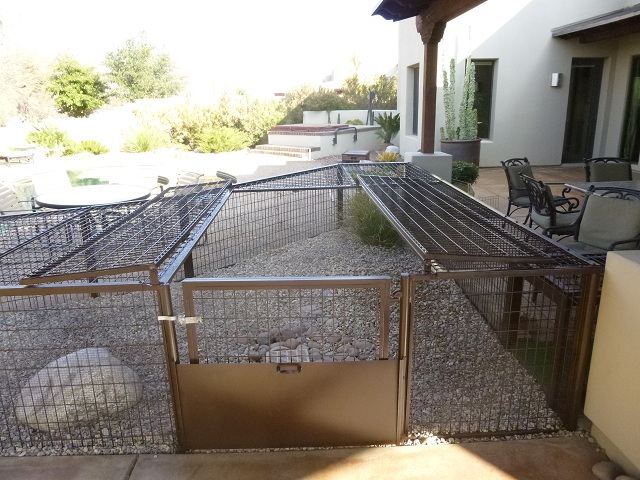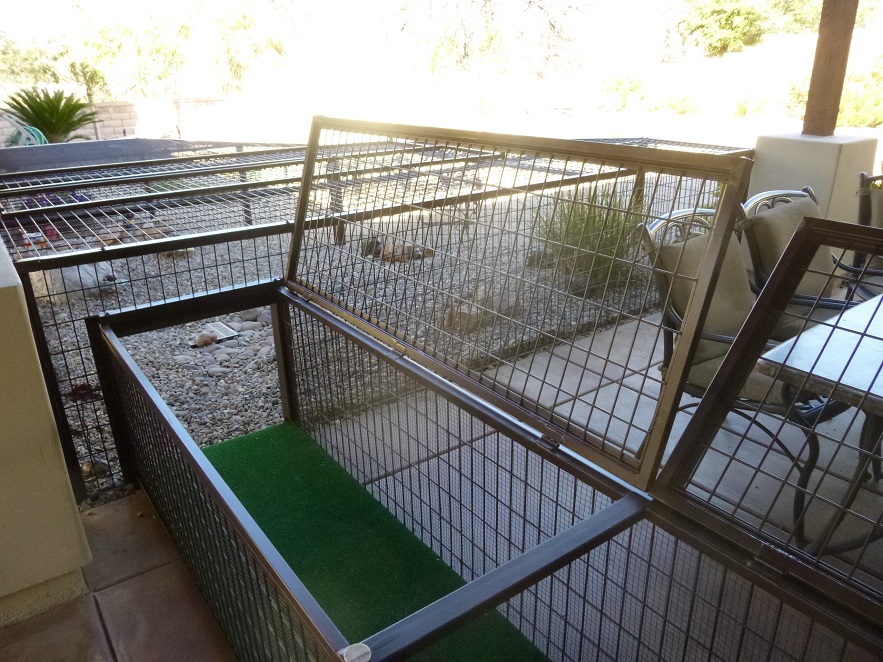 We are an established dog kennel company in Phoenix Arizona that has been installing animal shelters since 1996. You Can NOT find better quality pet containment anywhere! We are a small company and once we take a deposit we work on that project until it's complete. Shoot us an email and if we are finished with or near completion of a job we will be glad to drive out and give you a FREE Estimate. If we present you with a proposal that is satisfactory, we ask for half of the cost as a deposit and the remaining half upon completion. If you have not yet moved into a home you can reserve a dog kennel to be installed anywhere the greater Phoenix area 30 to 60 days in advance.