Portable Horse Corrals For Sale Phoenix Arizona
CALL (520) 730-7020
Top Quality Horse Corral Sales & Repair Service! All Sizes! Better Prices!
Arizona horse owners looking for quality portable corrals for sale around Phoenix AZ sometimes find themselves at a disadvantage due to lack of time and resources. Often this will result in settling for corral panel sales in Phoenix Arizona that at are overpriced or unsatisfactory. Hundreds of Ranches, Horse Boarding Facilities, Equestrian Centers, and Private Horse owners in Arizona have chosen OK Corrals to buy portable horse corrals and other quality products for sale. This site offers an example of the different AZ corral sales and portable panels for sale. For years we have fabricated and installed custom built horse corrals and set up or installed in and around the Phoenix Arizona area. We take pride in offering the Absolute Best Quality Made Horse Corrals that you can find anywhere! You Won't Be Disappointed. We Won't Let You Down. We also do on site welding and repair on horse and livestock enclosures, gates, tack, and other equine products in AZ.
Whether you are seeking portable horse corrals for sale in the Phoenix area or need other types of equestrian enclosures in other areas of Arizona. You will find a better selection, more choices, better quality and prices. We offer 5 foot, 10 foot, 12 foot, and 16 foot portable corral panels. We deliver and set up horse corrals to all areas of Pinal County, Pima County, and Maricopa County AZ.
Custom Built Schedule 40 Steel Pipe In Ground Corrals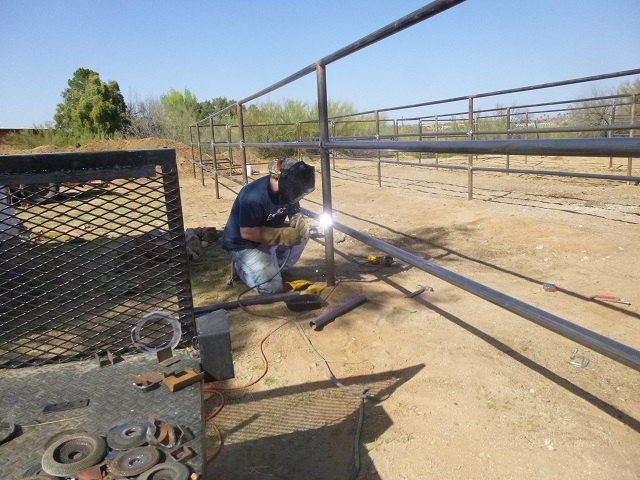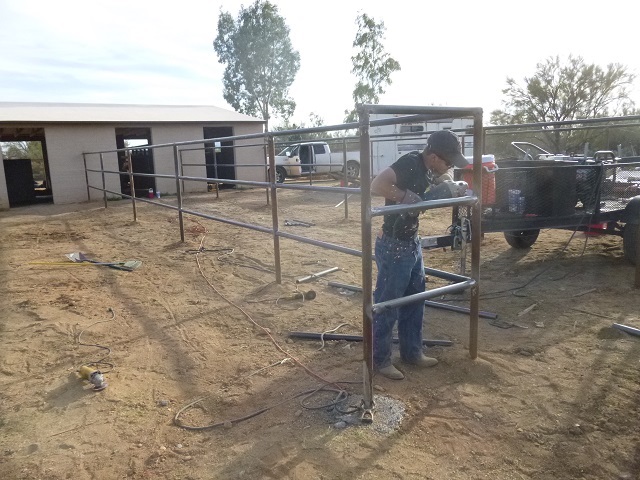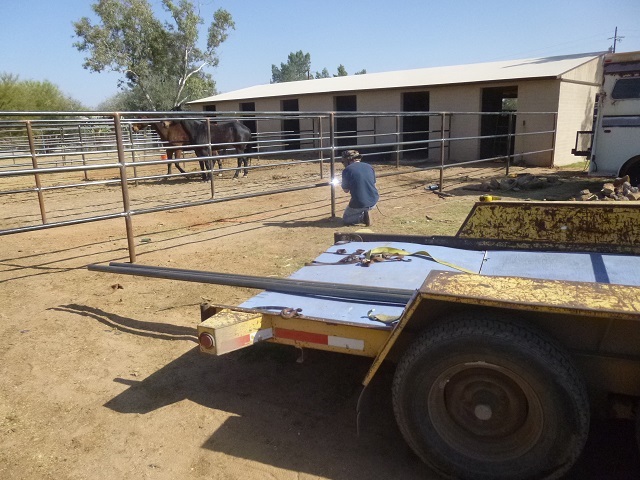 We also fabricate and install Heavy Duty Schedule 40 Steel Pipe Horse Corrals that are set in 16 inches of concrete. Your choice of 1 5/8 inch, 1 7/8 inch, or 2 inch pipe. Your choice of Black Steel or Galvanized Pipe Corrals. Our Top Quality Corral Gates are so strong that you can swing on them. Many of welding designs and techniques are Exclusive and can not be found elsewhere. These Arizona corrals for horses and livestock are built with the heaviest steel available and will outlast your grandkids. Save your Gas and Time by emailing us at JackIsBusy@yahoo.com.
Horse Corrals For Sale In Phoenix AZ.
Corral Panels At Better Prices, All Sizes, All Areas of Maricopa County Arizona
Portable and Permanent Corrals, Horse Shade, Barns and Out Buildings, Gates, Welding Repairs On Site.
YOU ARE ALREADY BUSY ENOUGH!

Call Us To Set Up and Install Your Horse Corrals
and YOU'RE DONE! Relax! Go Have Some Fun!