Best Quality Custom Built Dog Kennels In Southern Arizona. — NOTE: The top is designed to come off if the owner needs to replace air conditioner or needs to work on the water lines. Also notice that approximately 5 inches of small river rock was installed so that after the elimination of fecal matter is resolved you only need to wash down the rocks with a hose to create a sanitary kennel for dogs. We custom build and install kennels of All Sizes and Colors in All Areas including but not limited to Phoenix, Scottsdale, Paradise Valley, Fountain Hills, Gilbert, Chandler, Mesa, Tempe, San Tan Valley, Care Free, New River, Cave Creek, Glendale, Peoria, and Sun City, Arizona.
Taking Your Dog Along On Trips? Click Here!
Check Out Our Exclusive Snake Proof Kennel Design Below!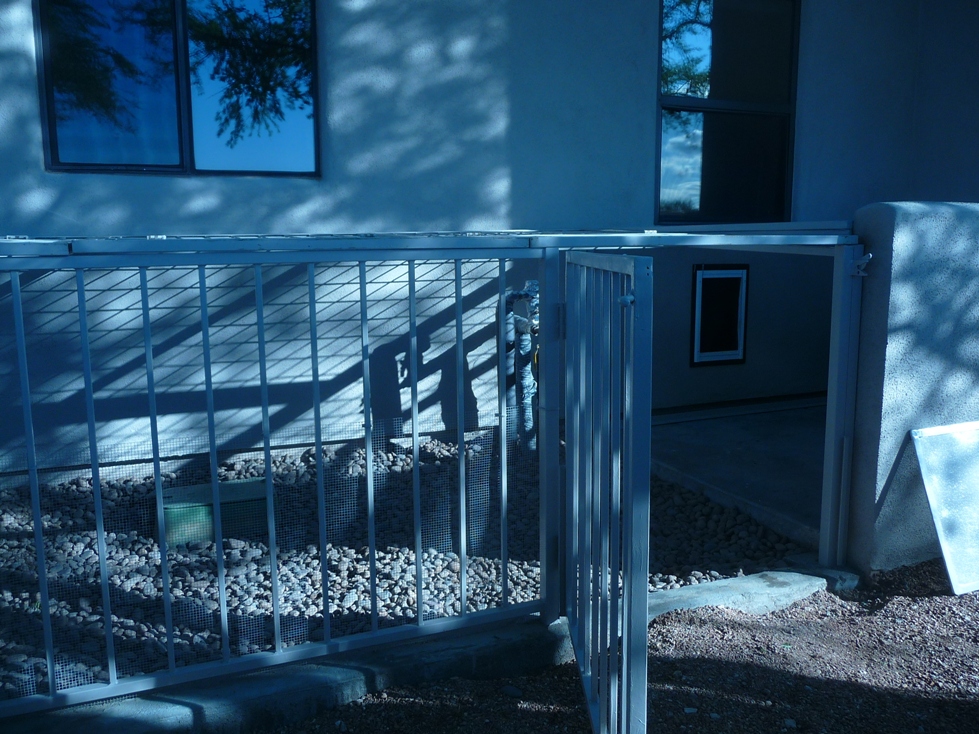 OK Corrals Was First To Design A Snake Proof Dog Kennel! So far we are the only Arizona company that installs snake-proof wire at the base of our containment systems. OK Corrals is dedicated to creating high-quality, custom designed animal enclosures, from individual dog kennels and cat condos to full-line kennel systems. Over the past years we have installed over one hundred animal shelters and enclosures in Southern Arizona. We build and install Metal Dog Kennel Buildings with steel enclosures that are maintenance free with durable construction that will last. You will be proud of our custom dog kennel quality that will enhance the value of your property. We also offer Lower Material and Labor Costs than other companies. Our Arizona dog kennels come in a variety of colors and materials from 6 gauge welded wire to 1/2 inch steel square tube frames.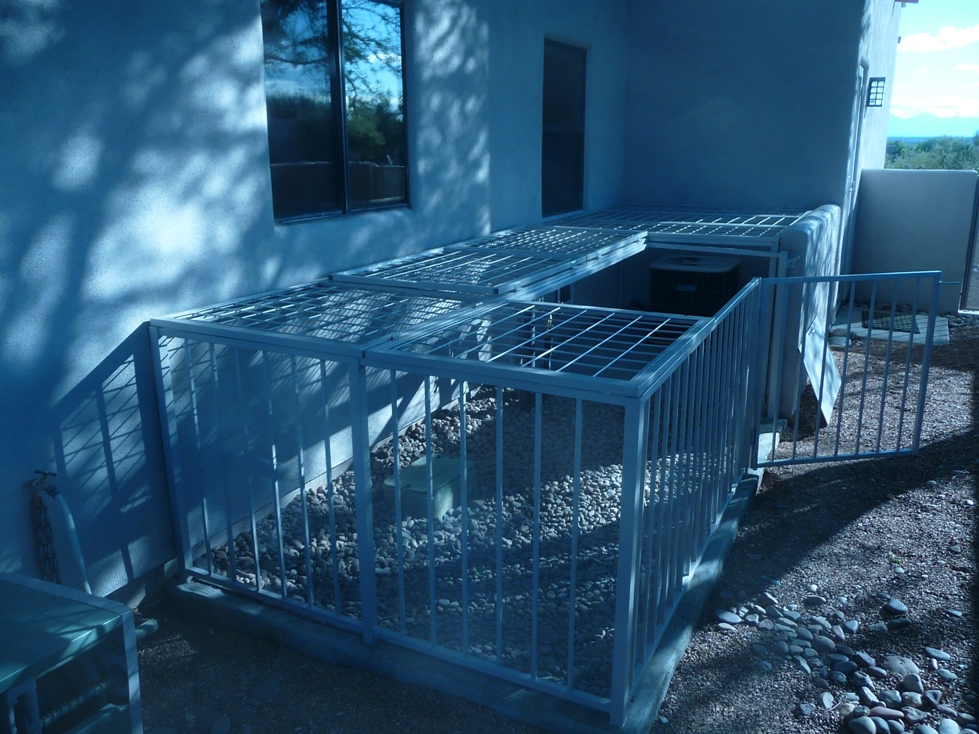 Our years of experience set us apart from other Arizona Dog Kennel Companies. We can install permanent enclosures set in a concrete footing or a temporary design that can be disassembled and moved. Each Arizona kennel is made of steel construction and features an open, airy environment that keeps your pets safe and secure. Your choice of a solid kennel roof, no roof, a Sunshade Top, or a WELDED MESH Panel roof to keep hawks and other preditors out. Our temporary dog kennels offer Easy assembly but are the strongest containment systems in the industry. We install custom dog kennels in Phoenix, Scottsdale, Fountain Hills, Care Free, Cave Creek, Chandler, Gilbert, and other areas of Maricopa County AZ. Locally owned and operated, we can sit down with you to design the structural portion of the kennel, plus the Footing and Foundation plans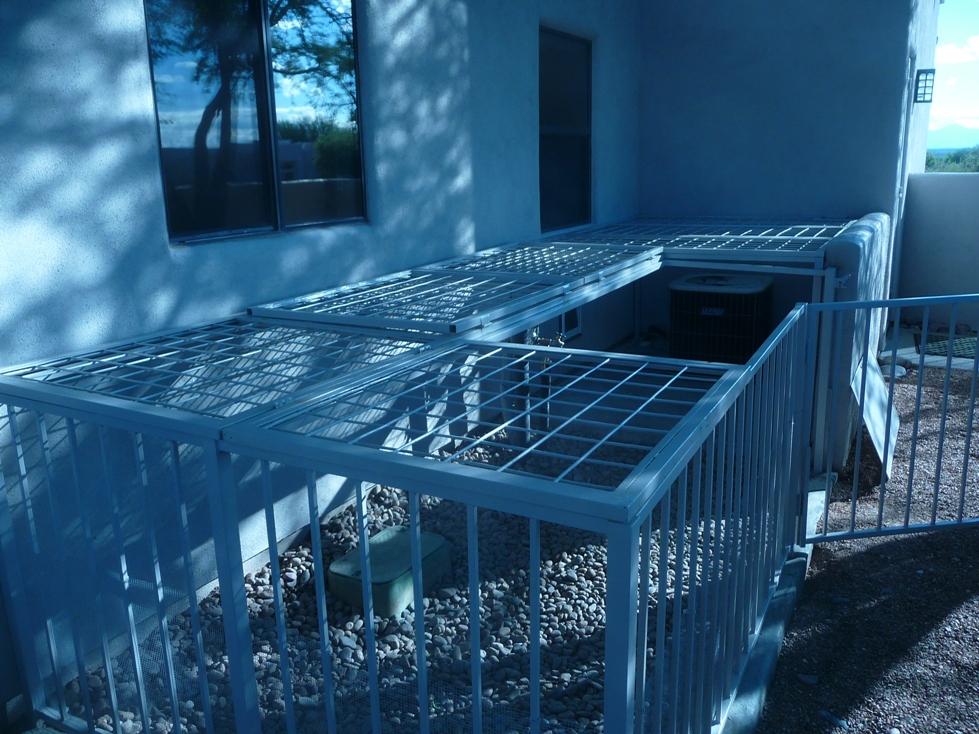 Call us for a FREE Estimate on custom dog kennels installed in Southern Arizona. No matter what size pets you have. No matter if you own your home or rent. OK Corrals is the perfect low cost, low maintenance solution for pet owners, profession dog breeders, kennel operators and trainers. Long lasting, low maintenance kennels for dogs are comfortable, secure and customizable inside and out.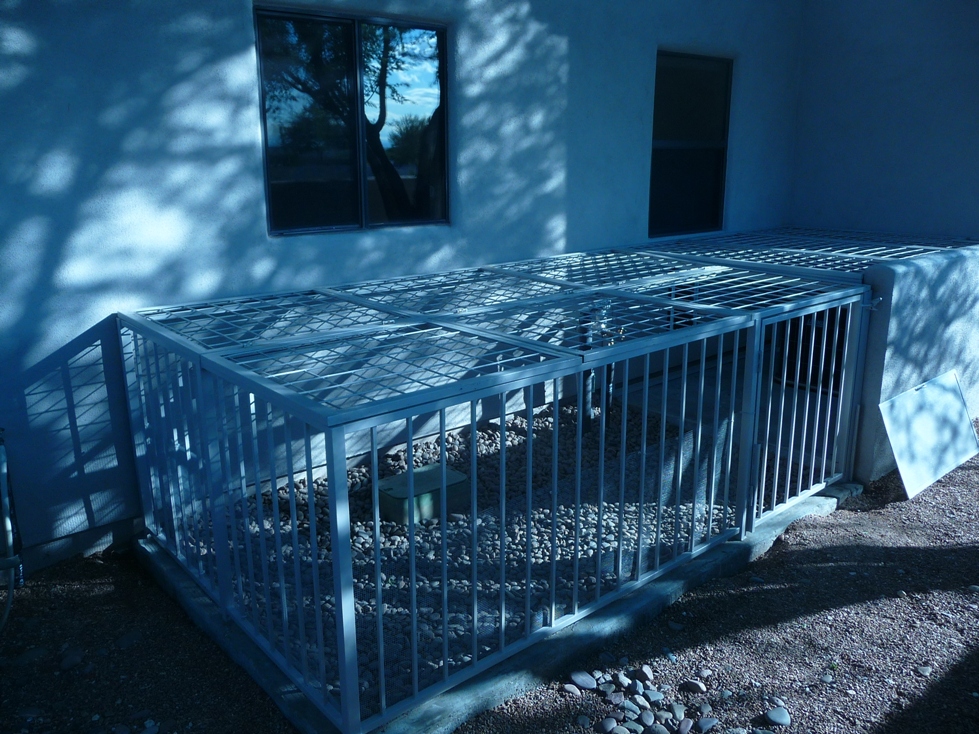 Ten Reasons to Choose an OK Corral Custom Made Dog Kennel: 1. Reduced construction time and enhanced dog kennel quality. 2. Lower material and labor costs equal savings over traditional construction. 3. We can add on or adjust size with no disruption of regular operations - a major feature for dog kennel operators. 4. An ideal choice in severe weather areas. Nothing is more economical, durable or sturdier than all-metal steel construction. 5. Energy savings with climate control result in ideal conditions, care and comfort for kenneled animals. 6. Be good to the earth and environmentally responsible, too, with kennel buildings of recycled materials. 7. Low risk steel dog kennels naturally cost less to insure. Look for insurance premium savings of up to 40 percent. 8. Minimal maintenance and mold rot and pest resistant equals real operating cost savings. Super durable metal dog kennels are a safe, intelligent choice. 9. Modern all-steel dog kennels provide a finish, texture and color to suit every situation 10. Custom dog kennels made of steel are the practical, economical and intelligent choice for commercial dog boarding and kennel facilities. Many of our clients have been coming back to use us year after year because of our dedication to providing the Best Quality Dog Kennels for sale in AZ! — We are confident that You Will Too!
Exclusive Snake Proof Dog Kennel Gate Design!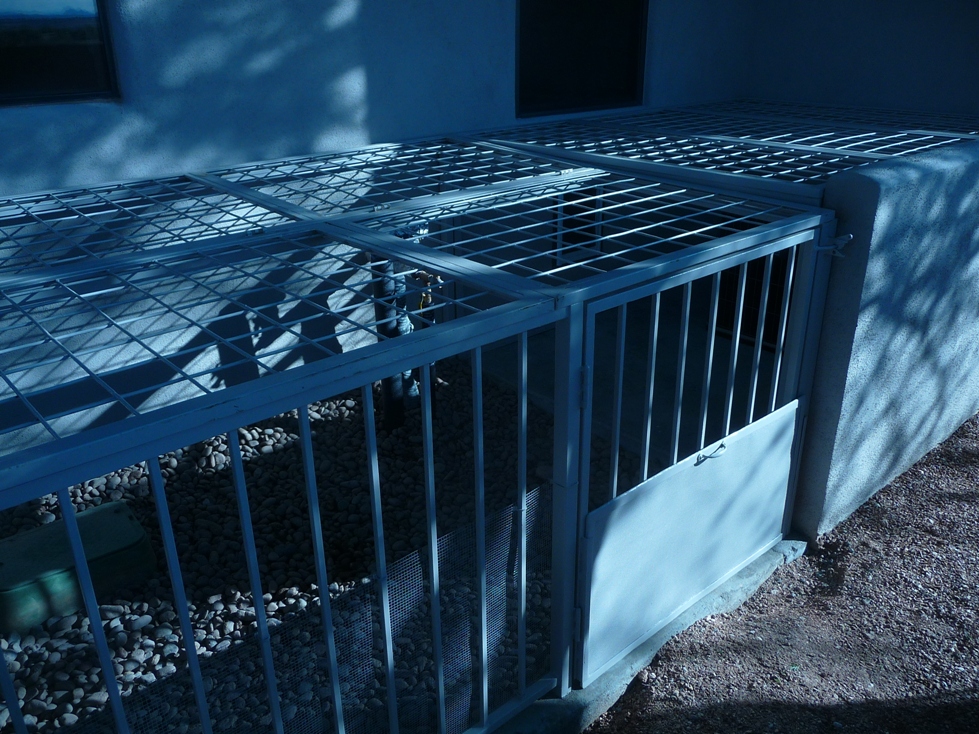 OK Corrals not only installs snake proof wire around the perimeter of our kennels but we can also snake-proof your yards and pool.