Phoenix Arizona
Horse Shade Installation Company!
CALL (520) 730-7020
Made With The Heaviest Steel Available! Wind Proof! Will Not Bend or Blow Down!
If you want to install shade for horses in the Phoenix Arizona metro or rural area? Looking for The Best Quality and The Best Value? Call us at (520) 730-7020 and schedule an appointment for us come out and give you a FREE ESTIMATE on installation of steel horse shades, hitching posts, cross ties, corrals, and all other welded or steel products and repair. We cover the entire Maricopa County Arizona farm and ranch livestock markets as well as additional welded products like custom built dog kennels, hunting dog training tables, chain gang, bird aviaries, and dog runs in North Phoenix, Scottsdale, Fountain Hills, Cave Creek Arizona, Care Free AZ, and surrounding areas.
Taking Orders For Installation Of Horse Shade On: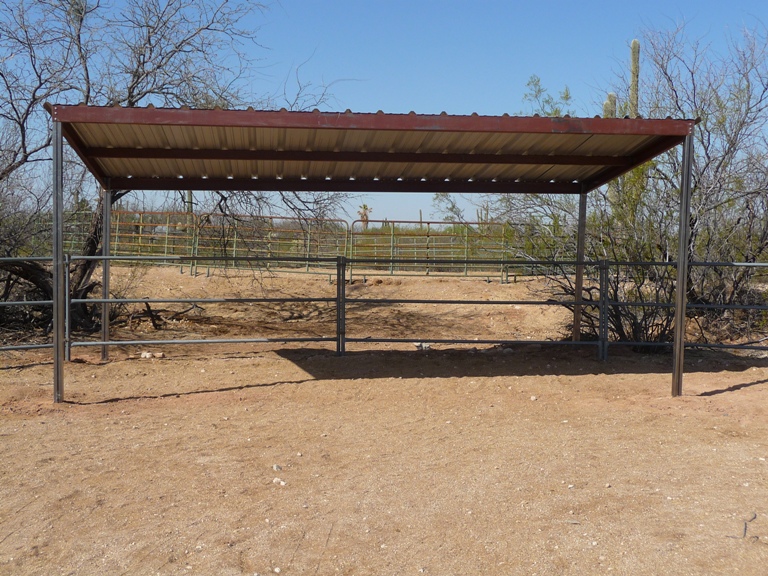 10FT X 20FT Our Most Popular Horse Shade in Arizona! Measuring 10 foot wide X 20 Foot long. The Front is 10 Foot Tall, Heavy Duty 14 gauge 3 inch round or square posts buried in 20 inches of concrete. Your choice of Thick Powder Coated AZ Panel, PBR, or Galvanized Roofing held up by Extra Strong Durable 14 gauge 2 inch X 6 inch C-Purlin. ( 2 inch X 8 inch C-Purlin Upon Request) This is the BEST LIVESTOCK SHADE IN AZ Period! We have installed over 100 shaded horse stalls or corrals in Maricopa County since 1996 and NEVER Had To Go Back To Repair Or Fix One even though our work is Guaranteed! !
Looking For Arizona Corral Panels? CLICK HERE.
---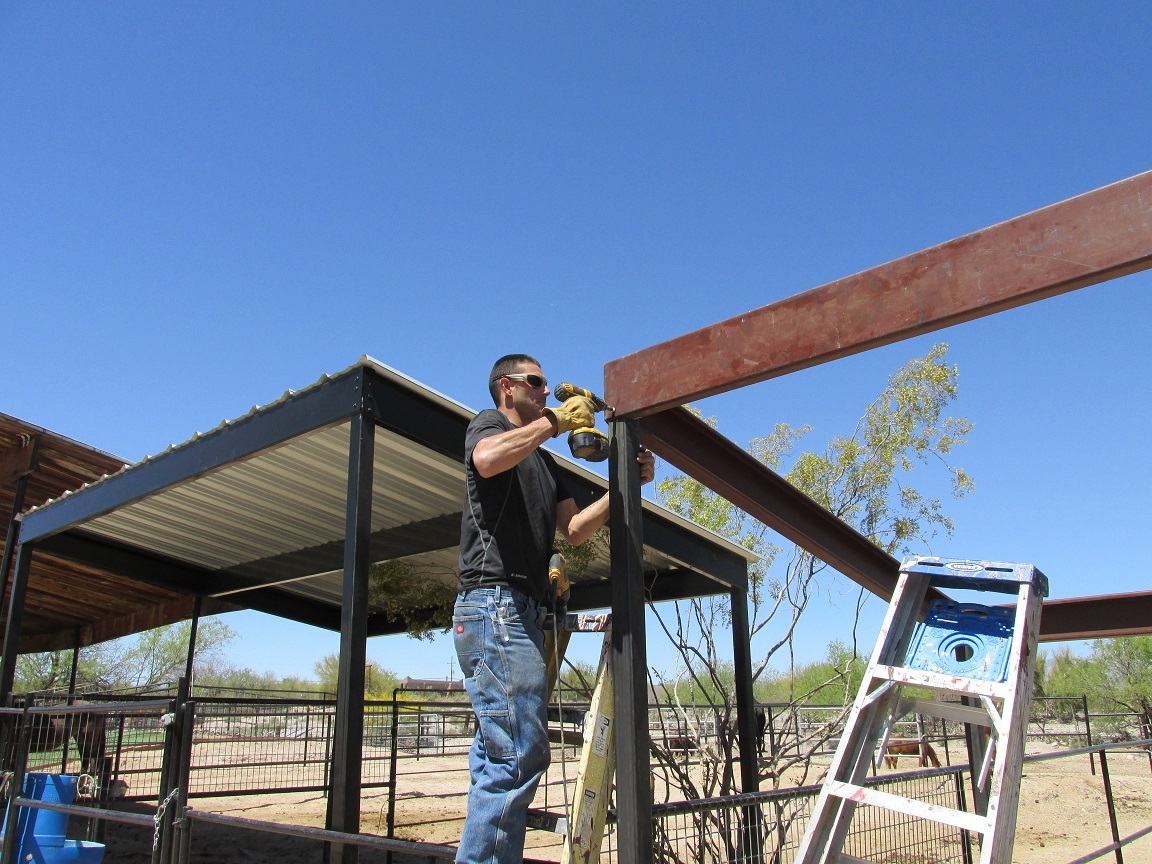 10FT X 10FT Shade Searching for Companies that install Arizona Barns, Mare Motels, Tack Rooms, and Metal Sheds? No matter if you look online or in thr phonebook. You will not find Better Quality shaded horse corrals, hay barns, steel tack rooms, animal enclosures, or stalls for our LOW COST anywhere! Your choice of concrete or dirt flooring. Custom Built Metal Buildings Installed In Arizona To Your Specifications! The Low prices on metal barns, mare motels, out buildings, and sheds shown above does not include horse corrals.
Looking For AZ Light Weight Corrals? CLICK HERE!
---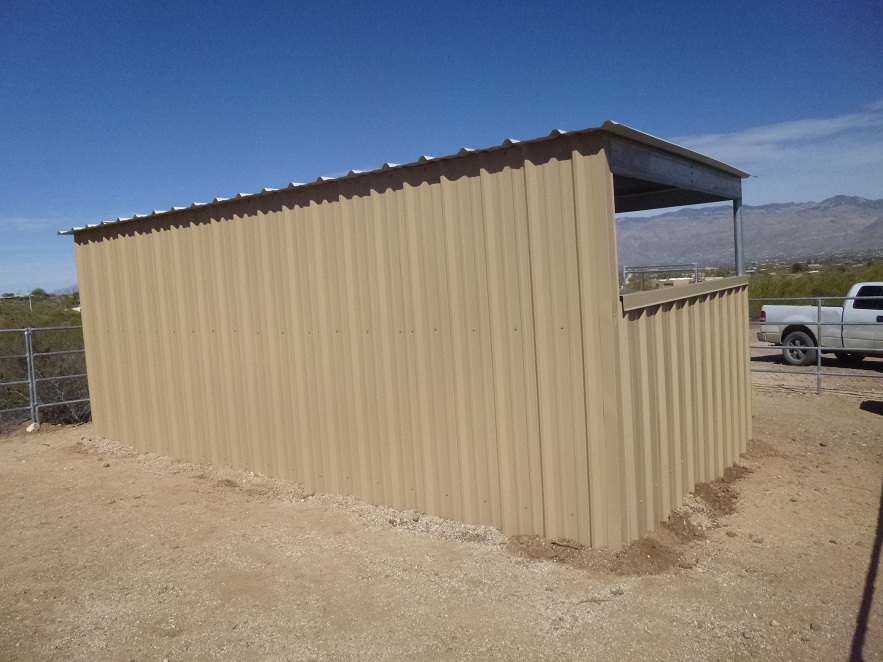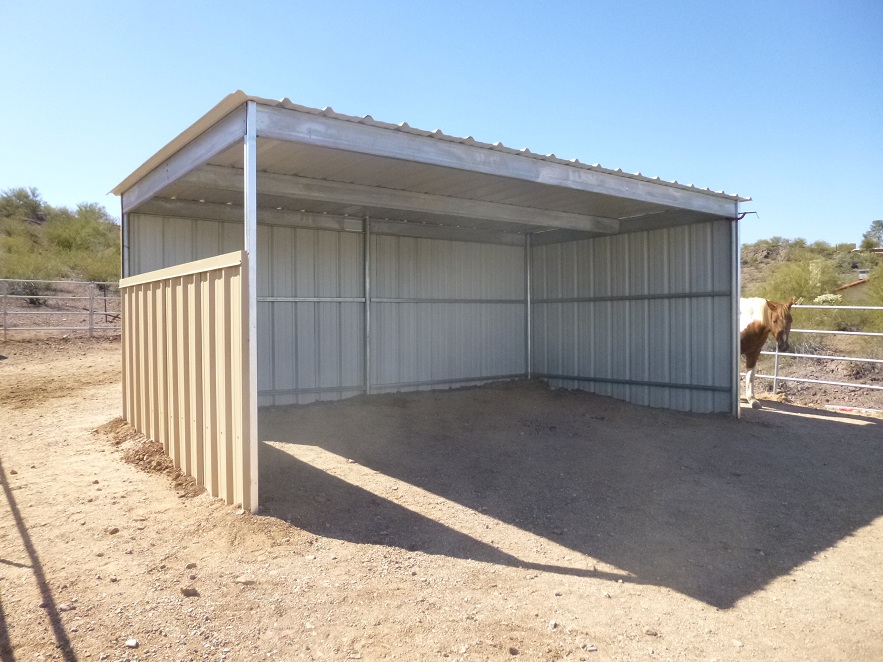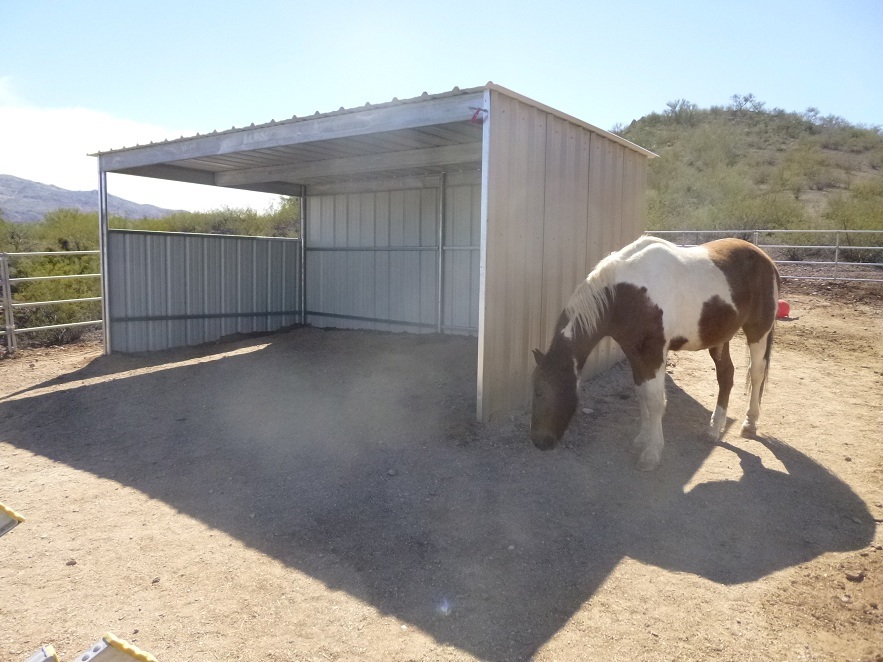 10 FT X 20 FT with 3 Walls Busy people looking for Arizona companies that install corrals with livestock shade, shaded horse stalls, metal hay barns, and other welded steel projects in Phoenix, Fountain Hills, and Scottsdale are at a disadvantage due to lack of time and resources. Often this will result in settling for Arizona corrals and stalls with shade that is overpriced or unsatisfactory. Hundreds of Ranchers, Horse Owners, Farmers, and Arizona Horse Boarding facilities in Maricopa County use us to install all of their tack rooms, barns, corrals, mare motels, and horse shade. Every day we build and install The Best Quality steel buildings, livestock corrals, and horse shade in AZ! For years we have been one of the Best Companies for installation of pipe corrals, animal shade, metal hay barns, and steel out buildings in Southern Arizona. We take pride in offering the Absolute Best Quality that you can find anywhere! You Won't Be Disappointed. We have also built and installed over 100 dog kennels and runs in Southern AZ!
Click here to find out more.
---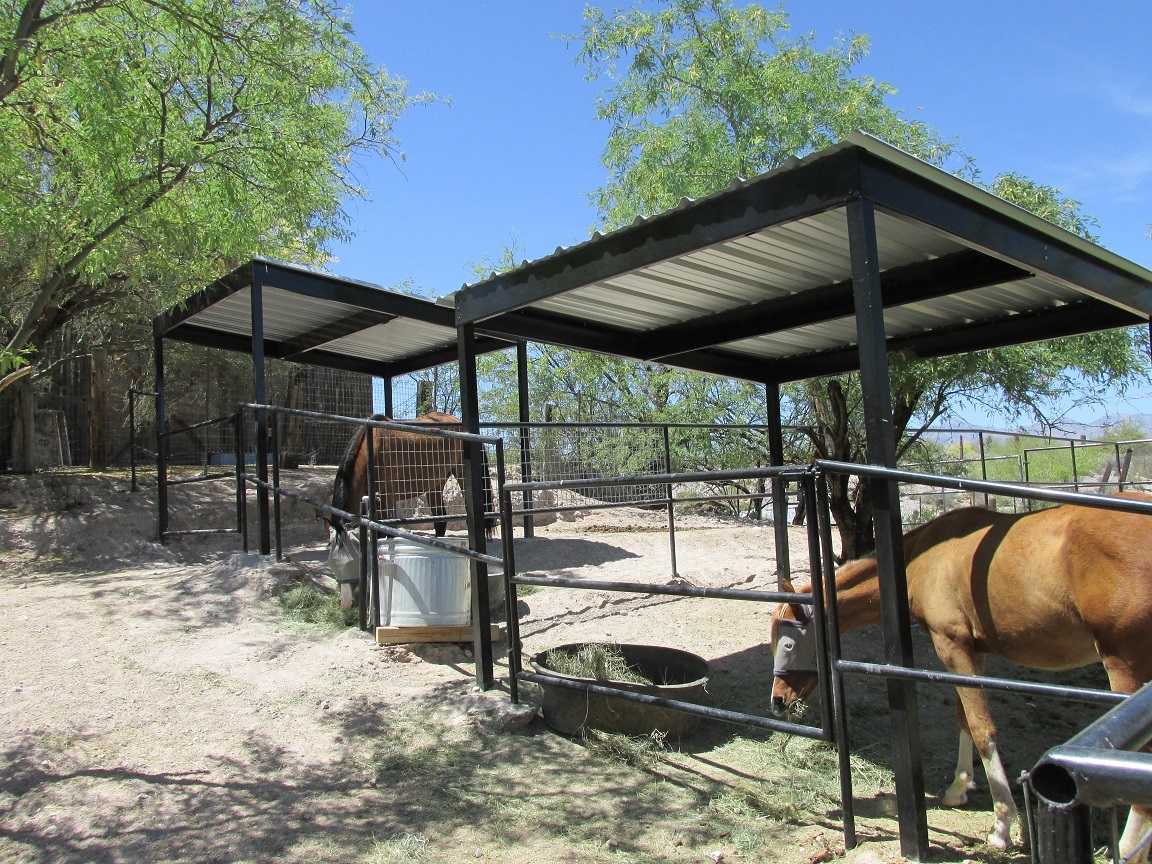 10 FT X 10 FT Horse Shade Absolutely The Best Quality Horse Shade in Arizona. Built with Heavy Duty Steel. Strong Shedule 40 Posts, The Heaviest C-Purlin Available, and R-Panel Roof You Can Walk on. Roof comes in your choice of Durable Powder Coated PBR, AZ panel, or galvanized sheet metal. All posts are set 20 inches underground set in concrete.Click here to find out more.
---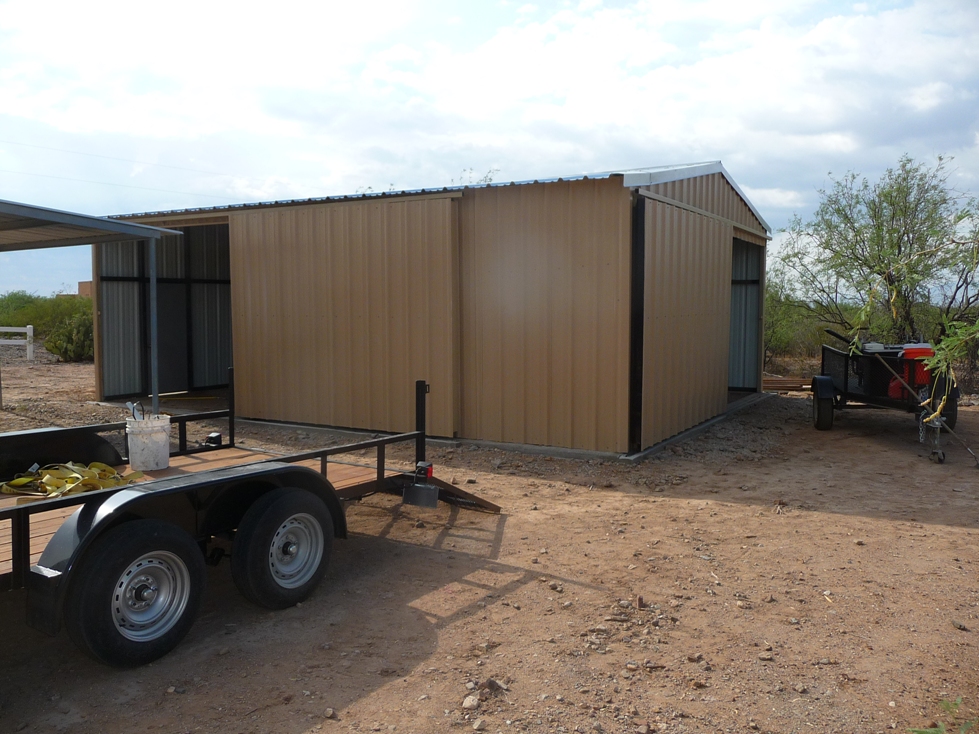 20 FT X 30 FT Steel Barns Top Quality Steel Barns with Two 12 FT Doors Installed in Southern Arizona with your choice of color. Built from 11 gauge — 3 Inch Posts and 3 Inch Rails with 8 inch C-Purlin frame for roof. High strength AZ panel steel sides Will Not Rust! All posts are set in concrete 20 inches Deep Concrete Footing Perimeter . Click here to find out more.
---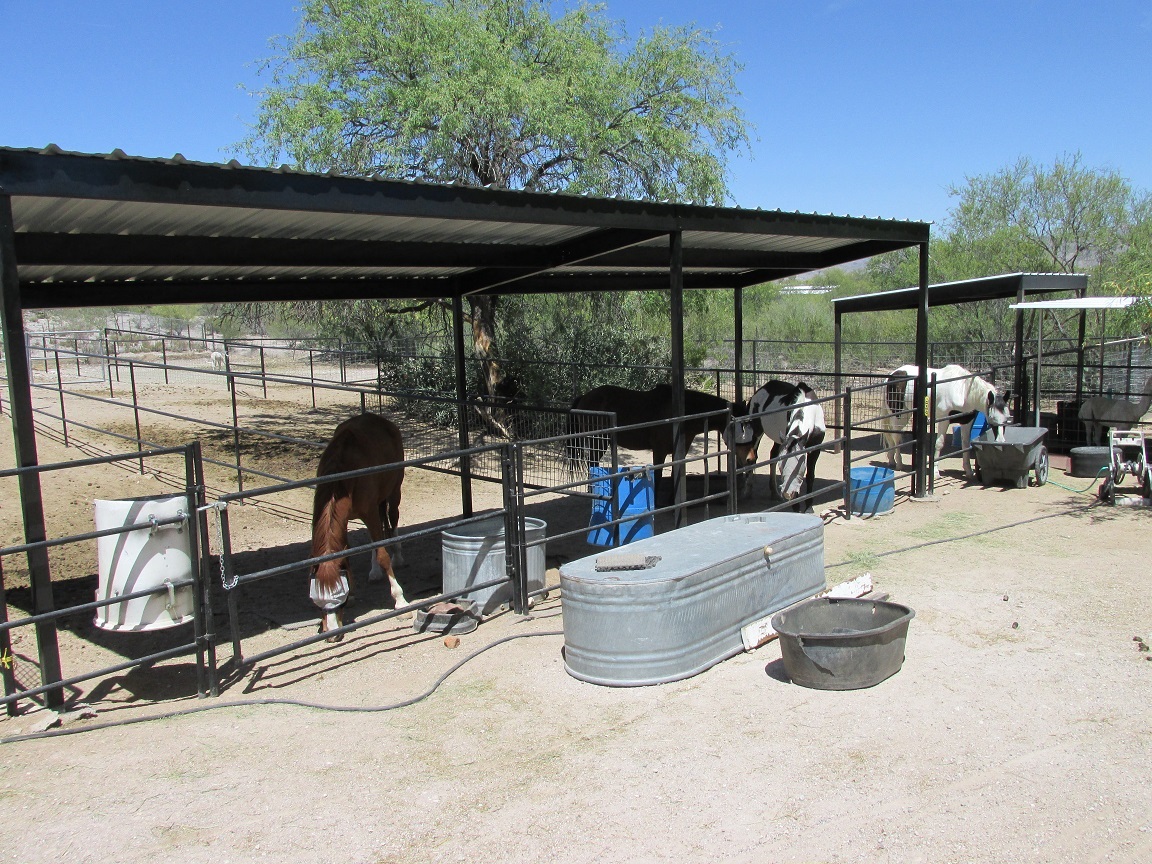 10 FT X 30 FT Horse Shade Durable Steel Will Outlast Your Grandkids! Installed in less than 4 days in Southern Arizona. Built from Schedule 40 Heavy Duty Steel! — 3 Inch Posts with 2 1/2 inch X 8 inch C-Purlin frame for roof. High strength AZ Panel Roof! Will Not Rust! All Posts Are Set 20 Inches in ground with Concrete! Click here to find out more.
---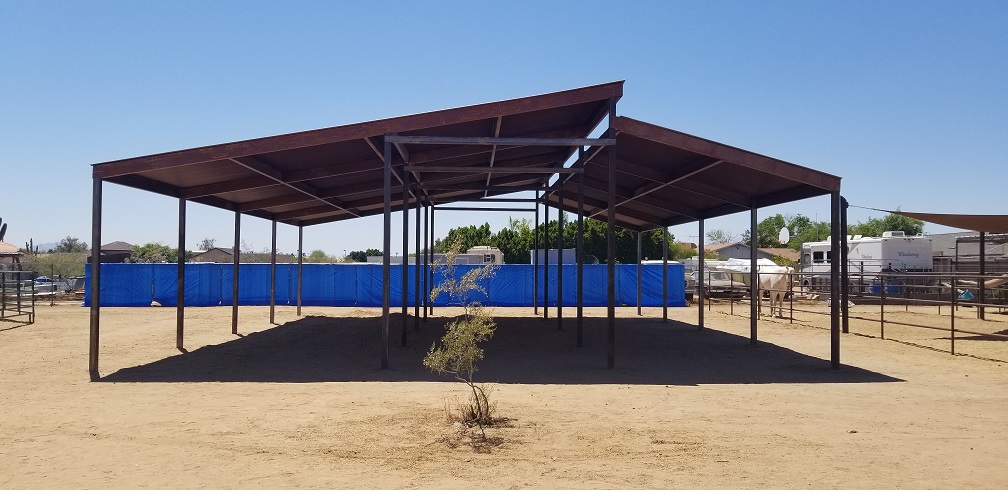 40 Foot X 48 Foot Mare Motel. We Install All Sizes and Colors usually within a week. Built from the Heaviest Stell Available! You Can Not Find A Better Quality Horse Shade Anywhere! Click here to find out more.
---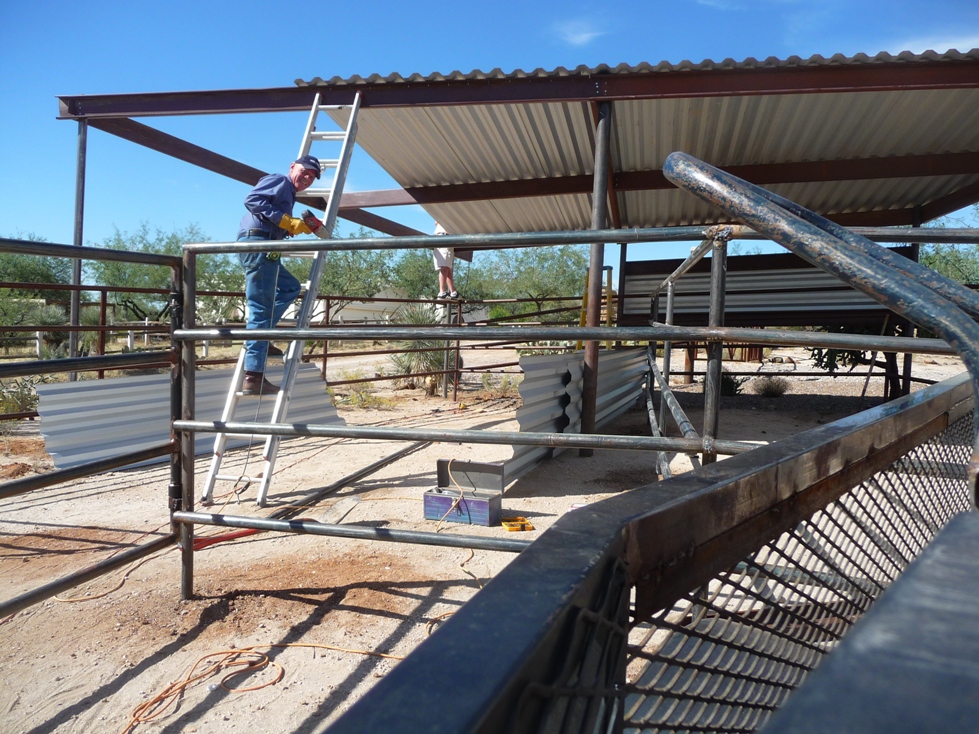 What are the Best Quality Horse Shades, Mare Motels, Tack Rooms, and Steel Sheds installed in Southern Arizona? THATS EASY! It's The Ones That LAST! We only use Heavy Duty AMERICAN MADE, 14 Gauge Steel or Thicker!
Up To Size Schedule 40 Steel at your request. All of our employees are United States Citizens and are AWS certified. We can even add your ranch brand or logo to any livestock corrals, signs, buildings, or gates. If you don't have a ranch brand or logo
WE CAN HELP!
Click here to find out more.
We Are Ready — When You Are!
---
WAIT! We Have More!
Take A Peek At Our Other Arizona Livestock Products Below!
Hay Barns, Mare Motels, and Horse Shade For Sale In AZ!
Delivered & Installed! Lowest Prices! Best Quality!
CALL FOR A FREE QUOTE TODAY! (520) 730-7020
Searching for livestock shade, hay barns, and mare motels for sale in Arizona can be a long and tedious process if you don't where to look. More often than not this leaves you at a disadvantage due to lack of time and resources. With Over 15 years of experience as builders of ranch and farm metal structures and other products, we can install almost anything you request at a better price. Fortunately we have access to low cost steel which allows us to pass the savings on to you. Call us for a FREE ESTIMATE on Arizona hay barns, horse shade, tack rooms, horse corrals, riding arenas, covered stalls, livestock shutes, and other steel buildings. We consistantly shop the market for the lowest price on steel and other building materials in order to offer the Best Quality and Lowest Prices in AZ. Don't settle for barns, shaded corrals, or mare motels that at are overpriced or unsatisfactory. Let us email you examples of what we build and all you have to do is choose the one that is best suited for you. Let us show you how inexpensive Arizona hay barns, corrals, and horse shade can be. We can email you full details on all Arizona steel buildings and other metal stuctures including size, description, materials used, cost, time needed to fabricate and install, plus pictures can be e-mailed to you by request at Send Me Info. Since 1996 we have built and installed hundreds of hay barns, loafing sheds, mare motels, horse shades, covered stalls, and other livestock related structures for sale in Southern AZ! We are proud to offer the Absolute Best Quality and Lowest Prices on steel buildings and livestock enclosures in Arizona.
Low Cost Animal Shelter In Arizona
Quality Steel Buildings at Better Prices, All Sizes, All Seasons, All Areas!
Hay Barns, Livestock Shade, Tack Rooms, Riding Arenas, mare Motels, Shaded Stalls, Horse Corrals
YOU ARE ALREADY BUSY ENOUGH!

Choose one of our many Metal Sheds For Sale
and YOU'RE DONE! Relax! Go Have Some Fun!
1996-2012 Copyright © OK Corrals
An Arizona Family Owned Company Since 1996.